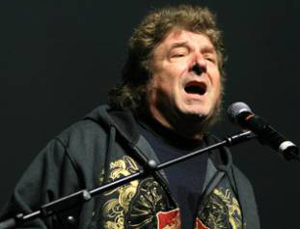 The music and arts world in Spain is in shock. Flamenco maestro Enrique Morente died today in Madrid at Madrid's clínica La Luz. The legendary singer, composer and producer had been in a coma for several days and this morning he had been pronounced brain dead. Spanish newspapers are reporting that the family may sue the clinic for malpractice.
The clinic has become a focal point for Morente's friends. At the time of death, Morente was surrounded by flamenco singers Arcángel and Carmen Linares, producer Javier Limón and singer-songwriter Joaquín Sabina.
The Morente family put out a new press release. "The Morente Family announces that today, Monday, December 13th, after 5:00 pm, Enrique Morente has died. After several days of tireless fight against death, Enrique Morente, an extraordinary creator and a wonderful person, leaves an enormous emptiness in our hearts and in music, to which he dedicated himself entirely and with passion during all his life."
"The authors and publishers and those others who work in the creative field, feel today like orphans after the passing of Enrique Morente (Granada, 1942), " said Spain's performing rights organization SGAE (Sociedad General de Autores y Editores) in a press release. "We add our voice to the sorrow caused by this irreparable loss and transmit our most heartfelt condolences to the family.
He was a member of his beloved Sociedad de Autores since 1976, in which he had registered 270 works. Morente championed the protection of intellectual property rights carried out by this entity and, specially, cante jondo [deep flamenco song]: 'We have to value the defense of the rights of Flamenco artists because we are talking about a creative art,' he said last April, when Berklee College of Boston recognized Paco de Lucía as Doctor Honoris Causa."
The Spanish Minister of Culture, Ángeles González-Sinde stated that she is "shaken" by this "terrible event." "It is a great loss to the nation," she said to the Spanish media this morning at a conference. [Morente] "is such an important figure in our country's culture, in the evolution and transformation of flamenco, in conquering new audiences; a maestro, a person with an impeccable vocal technique."
"We lost one of the greatest and most beloved artists, who made possible that Flamenco is now a universal heritage of humanity," said a Universal Music Spain press release. Morente recently signed an exclusive licensing agreement with the major label.
SGAE's executive president Eduardo Bautista added his voice to the tributes. "If anyone has renovated cante jondo, taking it to the most diverse sounds and making it live along with the most different musics,ranging from rock to global beats, without losing his deepest roots, that is Enrique Morente".
Many regard Morente as the best flamenco singer in the past two decades. He was going turn 68 on December 25.
Enrique Morente Cotelo was born in the Albaicín district of Granada (Spain). He grew up in an environment where everything was right for the development of this interest. "Cante begins when you are born into it, from hearing other people singing in your village, from hearing people in their homeland," said Morente.
"Groups of people who you hear meeting in a tavern and starting to sing, your hear them, and you start singing too: you hear your family, you hear that at family parties everyone sings and everyone drinks, and everyone dances and … apart from that, in the end, of course, you need a technique, you need a school, you need to learn.
To get this, what you need. What helps you most is enthusiasm and then, the sense to know who you have to learn from, and from what sources, where you can find good stuff. Then you are on your way."
At the age of eighteen, he moved to Madrid, where he was known as Enrique El Granaíno (Enrique from Granada).
In the Spanish capital he would hang out both on and off stage with the biggest flamenco names of the time: Pepe de la Matrona, Bernardo el de los Lobitos, Manolo de Huelva and others. Very soon, he surprised the critics and the experts by his curiosity about and interest in assimilating and performing the most difficult flamenco cantes and styles, and also by his commitment to becoming a broad-based cantaor, without distinction of schools or geographical divisions.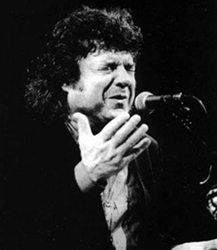 A professional musician from the 1960s on, he went along a path characterized by artistic and social inventiveness, always open to a dialogue with other musical traditions, and arranged for the introduction of the great poets of Spanish literature in the texts of his compositions.
At the time when his record "Homenaje Flamenco a Miguel Hernández" was released, the flamenco scene was stagnant, as much in musical as in literary and aesthetic terms. His contribution was a blast of fresh air, a salutary shock, which made concepts change, inspired new directions, and began the breakdown of the rigid formulas which were confining the art of flamenco.From that time on he created new melodies, unmistakable resonances, personal touches which added to the range of already-known cantos.
In the whole of the movement, which has been broadly called "Nuevo Flamenco", Enrique Morente was the cantaor with the most coherent vision of the path to be taken to encourage evolution. This had on more than one occasion led him to risk staging projects and shows where his participation, far from being limited to cante, extended to the roles of producer, director or actor. So it was that, in the second half of the 1960s, Morente took part in the staging of "La Celestina", with pianist Antonio Robledo and his wife, the Swiss bailaora Susana Audeoud.
Shortly after, these three brought to life the ballet "Obsession", first performed by the National Ballet of Canada. Also with Antonio Robledo, Morente created the "Fantasia del cante Jondo para voz flamenca y orquesta' first performed at the Madrid Royal Theatre May 16th, 1986, with the guitars of Juan Habichuela and Gerardo Núñez, and the Orquesta Sinfonica de Madrid, conducted by Luis Izquierdo.
One of his boldest and most original artistic projects was the show El loco romantico, based on Cervante's 'Don Quijote de la Mancha,' first performed in Granada, in 1988.
On September 15, 1990, at the Patio de la Monteria of the Reales Alcázares in Seville the "Allegro solea was first performed, as part of the VI Bienal de Flamenco, with the guitars of Pepe Habichuela and Montoyita, the piano of Antonio Robledo and the Orquesta de Camara de Granada, conducted by Micha Rachelevsky.
In 1990 Morente worked with the famous Bulgarian Voices "Angelite" choir to seek the common bonds between flamenco and Bulgarian folk music. Both music styles use the Phrygian scale. He received all kinds of similar new proposals constantly and had to think carefully about which ones he would like to carry out.
His Misa Flamenca (Flamenco mass) was performed for the first time in 1991. Later on, and seizing the opportunity of what would be Sabicas' last visit to Spain, he recorded a totally conservative album with the Spanish guitar master, released on the Ariola record label.
His groundbreaking album Negra si tu supieras was released on Nuevos Medios in 1993. It featured Pepe 'Habichuela', Tino Di Geraldo, José Miguel Carmona, Paquete, Bola, and Montoyita. Shortly after this release Morente conceived the idea of founding his own record label called Discos Probeticos.
In 1994 Morente was the first flamenco singer to receive the Premio Nacional de Música (National Music Prize) awarded by the Spanish Ministry of Culture. The following year he was awarded the Golden Medal by the "Cátedra de Flamencología de Jerez de la Frontera" and the Award "Compás del Cante" in Sevilla.
In 1996, he took part in the Homage paid to Manuel de Falla at The Lincoln Center in New York, along with master guitarist Tomatito.
In his pioneering album Omega he collaborated with Granada's rock band Lagartija Nick and a good number of flamenco artists such a Vicente Amigo, Tomatito or Cañizares, in order to adapt Federico García Lorca's poems to the music of Canadian singer-songwriter Leonard Cohen.
In 2005 he received the Medalla de Andalucía (Medal of Andalusia). This was followed in 2006 by the Medalla de Oro al Mérito en Bellas Artes (Gold Medal for Merit in Fine arts).
His album titled 'Pablo de Málaga,' based on unpublished Picasso's writings about his childhood in Malaga (Spain), came out in 2008.
Before his surgery, Morente had been working on a new album titled 'El barbero de Picasso' (Picasso's barber), which is another tribute to the great Spanish painter from Malaga. This time, the focus is on Picasso's paintings and the CD and DVD are scheduled for release in March 2011.
Enrique Morente is survived by his wife, flamenco dancer Aurora Carbonell and his three children, Flamenco singer Estrella Morente, Enrique Morente Carbonell and Maria Soleá Morente.
The Morente family tradition continues with his daughter Estrella Morente, who is one of the leading Flamenco vocalists of her generation
Related news stories:
Author:
Angel Romero
Angel Romero y Ruiz has been writing about world music music for many years. He founded the websites worldmusiccentral.org and musicasdelmundo.com. Angel produced several TV specials for Metropolis (TVE) and co-produced "Musica NA", a music show for Televisión Española (TVE) in Spain that featured an eclectic mix of world music, fusion, electronica, new age and contemporary classical music. Angel also produced and remastered world music albums, compilations and boxed sets for Alula Records, Ellipsis Arts, Music of the World.