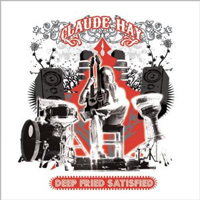 Claude Hay
Deep Fried Satisfied (Ingot Rock, 2010)
If I had to guess the only box Claude Hay ever put himself in was one that he made himself – and that includes his music. This Australian Blue Mountains guitarist, singer and do-it-yourself instrument maker and builder has socked the blues and rock scenes right in the kisser with his latest Deep Fried Satisfied, out now the independent Ingot Rock label. Mr. Hay independently released his first recording Kiss the Sky in 2007, providing him much needed exposure, as well as earning him on a spot on Asheville, North Carolina' s Ingot Rock's creative roster.
Brandishing his self made twin neck guitar, lovingly known as "Betty," Hay delivers a roundhouse smack so satisfying listeners will find ears ringing with a sound that is swimming with rock, blues, Southern rock and downright savage coolness. For a guy that's built his own house and outfitted his customized tour van with kitchen and recording studio, writing his own songs and playing all the instruments on Deep Fried Satisfied just seems …well… very Claude Hay.

Opening with "Get Me Some," Hay's ode to New York pizza, the sound burns bright with fiery guitar licks and a backwater blues sound that is simply too good to sit still. Leaping headlong into "How Can You Live with Yourself," Hay serves up a little funk with his rocking blues, while title track "Deep Fried Satisfied" is full of little fanny shaking goodness.
The instrumental "Two Zero Seven" provides a brief respite from the more lyric-driven tracks, but is no less powerful as Hay proves without a doubt he's got guitar finesse. "Heading Home" has got a breezy, feel good road song feel, but it's Hay's driving, high octane version of "We Will Rock You" that knock your socks off with slick guitar licks and vocal treatments.
The track "Don't Forget" burns bright with Hay's vocals and sizzling guitar, but it's the final track of Deep Fried Satisfied, "Miss You So" that hits below the belt with a sound that's part Gandy Dancer work song and part blues howler with a plumy drum solo to add some depth. Raw and emotional, "Miss You So" will raise the hairs on the back of your neck.
Deep Fried Satisfied is more than satisfying and Claude Hay's do-it-yourself take on the blues-rock genre is fresh and fabulous.
Buy the latest album:
Author:
TJ Nelson
TJ Nelson is a regular CD reviewer and editor at World Music Central. She is also a fiction writer. Check out her latest book, Chasing Athena's Shadow.
Set in Pineboro, North Carolina, Chasing Athena's Shadow follows the adventures of Grace, an adult literacy teacher, as she seeks to solve a long forgotten family mystery. Her charmingly dysfunctional family is of little help in her quest. Along with her best friends, an attractive Mexican teacher and an amiable gay chef, Grace must find the one fading memory that holds the key to why Grace's great-grandmother, Athena, shot her husband on the courthouse steps in 1931.
Traversing the line between the Old South and New South, Grace will have to dig into the past to uncover Athena's true crime.