A big furor is developing in the British capital, following BBC Radio London's decision to cut the station's only world music program A World in London (AWIL) from its schedule. The two hour weekly show hosted by DJ Ritu will be replaced in January by a chat show as part of Station Controller David Robey's plans to transform the BBC Radio London into a talk radio station. The cancellation has prompted an angry backlash from the show's devoted listeners who claim the BBC is failing multi-cultural London by ignoring its official remit to 'represent its communities' and 'to bring the UK to the world and the world to the UK'.
The BBC's decision to axe the capital's only world music radio show has shocked and incensed lovers of global music and culture and London's ethnic citizens, prompting a huge outcry and a campaign to save AWIL. A Facebook page launched by the show's fans generated over 600 signatories in the first week, while London based artists have pledged to stage a musical protest. The London Mayor, MPs, GLA members, trade unions and ethnic community leaders are also being asked to lend their support and lobby the BBC to keep the show.

BBC Radio London's Saturday night world music program was started by Charlie Gillett in 1995, gaining a strong and loyal following. Renowned disc-jockey and BBC broadcaster DJ Ritu inherited the slot from the legendary presenter back in 2006 when Mr Gillett was forced to retire through ill-health.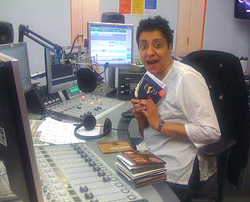 Renaming the show A World In London to reflect the ethnic and cultural diversity of the city, DJ Ritu's show has become a much-loved institution. Regarded as the BBC's most inclusive program, it boasts a unique mix of local and international artist interviews, eclectic mixes of new and classic global and UK folk music, CD reviews, and the Going Global diary of world music concerts, clubs & cultural events in London.
During the past four years, AWIL has lived up to its billing of 'music from all 4 corners of the world', featuring artists and songs from over 50 countries. Alongside championing unknown talent and music, DJ Ritu has also pulled in some of the biggest music names on the planet, including A R Rahman (India), Angelique Kidjo (Benin), Omara Portuondo (Cuba), Jah Wobble (UK), Tinariwen (Mali), and Tarkan (Turkey), picking up listeners across the country and abroad. AWIL's listener figures have grown continuously and are now on a par with Tony Blackburn's show; when Ritu broadcast her exclusive interview with Tarkan, AWIL became the most listened to online BBC London show for three weeks running.
Currently AWIL is BBC Radio London's only world music program, as 90% of the station's output is speech based. With the majority of the capital's residents said to have been either born abroad or with foreign ethnic roots, AWIL is a rare platform to showcase their rich and diverse cultural heritage.
Iranian music expert, Fari Bradley, who recently featured on AWIL, asked, "How can two hours of global music and culture be too much for London? BBC Local Radio should be doing far more to represent both my musical heritage and that of many other ethnicities in our massively diverse city. AWIL contributes positively to our better understanding of each other. After all, we almost live on top of each other – but when do we talk?"
Global music promoter and WOM@TT director Debbie Golt added, "In the run-up to the Olympics, AWIL should be given more airtime, not axed! Alongside the music, you have artists talking about their lives, values, and traditions, giving listeners a wonderful insight into their neighbors' worlds. We call on the Mayor and community leaders to throw their weight behind the campaign to save this unique treasure that epitomizes the best of multi-cultural London."
Ian Anderson, editor of fRoots magazine, said, "Robey is out of kilter with chairman Sir Michael Lyon's vision of the BBC*. AWIL ticks all the boxes. It fulfills a role that is simply not being addressed anywhere else on the airwaves, and doing so in a truly excellent and entertaining manner." Anderson continued, "There are few better examples of programs that so perfectly fit the BBC's public service broadcasting remit and on a virtually negligible budget."
Related links:
Author:
World Music Central News Department
World music news from the editors at World Music Central