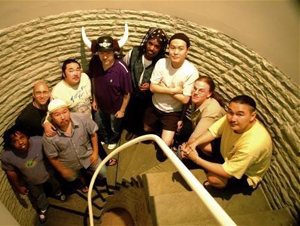 The Pacific Jazz Institute at Dimitriou's Jazz Alley will present the original Grammy-Winning Béla Fleck & the Flecktones on December 9 – 12, 2010. Band members are Béla Fleck (banjo), Victor Wooton (bass), Futureman (synthaxe drumitar), Jeff Coffin (horns and woodwinds) and Alash (Tuvan throat singer). Set times Thursday through Sunday at 7:30pm and 10:00pm. Doors at 5:30pm all nights.
A primarily instrumental group that draws equally on bluegrass, fusion and jazz sometimes dubbed "blu-pop" Bela Fleck and the Flecktones leave their music open to inspiration. Fleck has received Grammy nominations for performances in more music categories than any other musicians and is a four-time Grammy recipient for "Best Pop Instrumental Performance," "Best Pop Instrumental Album," and two times "Best Contemporary Jazz Album."

Béla and the Flecktones have received 21 Grammy awards between them, and perform before over 500,000 people yearly. Béla has received more Grammy nominations in more diverse categories than any other musician in history.
The Flecktones – Victor Wooten on electric bass, Jeff Coffin on sax and flute, and Future Man on percussion, including his custom synth-axe drumitar – are much more than just a backing band. Each member is given space in the arrangements to put his own stamp on each tune, and each takes turns supporting and trading off with the other instruments as in the best jazz combos. Their ability to solo as well as their in-the-pocket ensemble playing make them a breathtaking as well as groundbreaking band.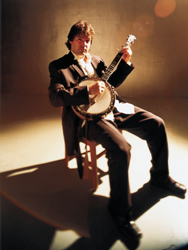 A New York City native (named after composer Béla Bartok), Béla Fleck picked up the banjo at age 15 after being awed by the bluegrass music of Flatt & Scruggs. While still in high school he began experimenting with playing bebop jazz on his banjo, and in 1980, he released his first solo album, Crossing the Tracks, which ranged from straight ahead bluegrass to Chick Corea's jazz opus "Spain." In 1982, Fleck joined the progressive bluegrass band New Grass Revival, and he has made a name for himself on countless solo and ensemble projects ever since as a virtuoso instrumentalist unbounded by genre.
The new CD by Béla Fleck & The Flecktones is Jingle All the Way, an album chock full of Christmas and holiday music as it's never been heard before. Though the melodies may be familiar, the varied tonal textures (banjo, Tuvan throat singing, funky electric bass and percussion, mandolin) and rhythmic interplay make every measure new.
December 9 – 12, 2010
The Pacific Jazz Institute at Dimitriou's Jazz Alley
2033 6th Avenue, Seattle, WA, 98121
Author:
World Music Central News Department
World music news from the editors at World Music Central