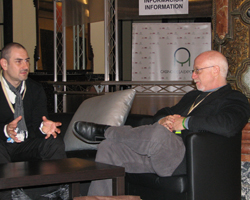 Berklee's Career Development Center has created a comprehensive resource for the music industry titled Salary Ranges for U.S. Music Positions in Performance, Writing, Business, Audio Technology, Education, and Music Therapy.
The study covers a broad range of specific careers, including orchestral, Broadway, and studio musician; choir director; jingle, TV, and film score composer; arranger; conductor; instrument maker; A&R; manager; music attorney; video game audio engineer; live sound and sound recording; audiologist; and music teacher.

Although Berklee's collection of music career resources is exhaustive, this type of information wasn't aggregated anywhere. Peter Spellman, director of the Career Development Center, had the idea to create a chart for advising purposes and to share with Berklee and the larger music community around the world. To create the document, Spellman and a team of staff members conducted research and revised the chart several times over a six-month span. The document will be updated every year to keep up with salary changes and emerging career paths.
While organizations such as MENC: The National Association for Music Education provide a "Careers in Music" resource, and books like Shelly Field's Career Opportunities in the Music Industry flesh out a number of music-related career paths in detail, Berklee's document aims to be the most comprehensive and user-friendly resource of its kind. Says Spellman, "Music students and their parents need to see the options available to music creators. This provides a bird's eye view of the music landscape and the many paths within it. Since faculty, private instructors, peer advisors and staff members are advising students on many different levels, this tool helps inform that advising too."
Providing analysis on the data and trends in the industry, Spellman sees music technology and social media-related fields experiencing growth in terms of job creation. He says, "Students who can both arrange a jingle and advise a small company on how to incorporate Twitter or Vimeo will find more chances to add value in the new music economy."
There is also great potential for those with expertise in digital marketing, new media PR, and micro-sponsorship development. At the same time, live music continue to be a mainstay; especially for under-the-radar acts playing in 200-500 capacity venues. Says Spellman, "There are plenty of bands and artists building loyal followings and making middle class livings who have redefined 'success' for themselves."
Click HERE to view the study.
Author:
World Music Central News Department
World music news from the editors at World Music Central