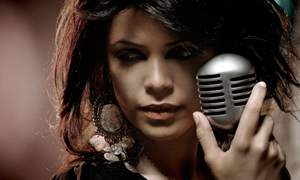 Yasmin Levy will perform Wednesday, April 6th of 2011 in London. The star singer returns to London with her electrifying Ladino songs and smoldering flamenco, performing tracks from her latest release Sentir.
As she explains 'There's a very traditional way of singing Ladino. I learned it…listening to women singing and it's beautiful, but I missed the passion. Flamenco is nothing but passion.' In her new album Sentir (World Village), produced by the acclaimed Spanish producer Javier Limón (who has worked previously with the likes of Portuguese fado star Mariza and Afro-Spanish sensation Buika), she has found a vision that integrates these musical directions.

Yasmin Levy has recently collaborated in Javier Limón's Mujeres de Agua (Universal Music Spain) project, which features leading female vocalists from Spain and other parts of the Mediterranean.
Born in Jerusalem 29 years ago, Yasmin Levy was introduced to Ladino singing and culture from a very young age. Her father was the leading figure in the world of research into and preservation of the Judeo-Spanish culture, dating back to the 15th century in Spain.
Yasmin's debut album "Romance & Yasmin" created a stir amongst world music lovers across the globe. Her album "La Judería", featuring Ladino and Flamenco music in her unique emotive style confirmed her status as one of the most promising new artists on the World Music scene.
Buy Yasmin Levy's recordings:
Wednesday 6 April, 7.30pm
Barbican Hall
Silk Street
London EC2Y 8DS
020 7638 8891
Author:
World Music Central News Department
World music news from the editors at World Music Central