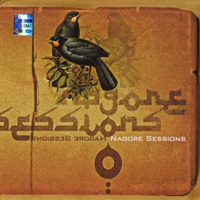 Nagore Sessions (EarthSync ES0029, 2008)
Nagore is near to where southern India comes to a tip, and the Sufi culture there thrives despite being far removed, geographically and otherwise, from other centers of Sufism. After the region was hit hard by the 2004 tsunami, religious and cultural differences were set aside (as has long been the case in Nagore) during the rebuilding process.
In that same spirit, the India-based EarthSync label initiated Nagore Sessions , a collaboration involving three Sufi singers and a team of musicians who give the vocalists' traditional leanings a graceful amount of modernizing.

There are hints of the late Nusrat Fateh Ali Khan's qawwali style, particularly in the use of harmonium and handclapping on a couple of tracks, but this is something else altogether. Dramatic flourishes in the music suggest a bit of Bollywood influence as well as traces of Indian pop, neither of which undermine the messages of love and devotion espoused by the likes of legendary Sufi poet Rumi and expressed here in musical terms.
Similarly, contemporary programming, bass and keyboards are applied sparingly and don't get in the way of the sitar, tabla, sarangi and frame drums that do the bulk of the melodic and rhythmic work. The vocal trio call and respond or blend into one authoritative voice as the accompanying sounds urge them not into heights of ecstasy but more of an understated meditation that gives the disc a warm, peaceful air throughout.
Music that conveys unity and healing is needed nowadays, and Nagore Sessions provides.
Buy the album:
Author:
Tom Orr
Tom Orr is a California-based writer whose talent and mental stability are of an equally questionable nature. His hobbies include ignoring trends, striking dramatic poses in front of his ever-tolerant wife and watching helplessly as his kids surpass him in all desirable traits.