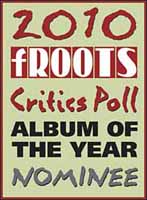 The nominees in the 25th annual fRoots Critics Poll Albums Of The Year have been announced today. Every year since 1986 (when the first winner was Paul Simon's Graceland) fRoots magazine has polled experts in the UK and abroad to decide the Album Of The Year in folk, roots & world music.
With over 300 writers, broadcasters and activists on the panel, it is established internationally as the most extensively researched and prestigious world music annual poll. When the BBC instigated their Awards For World Music in 2001, the fRoots Critics Poll was incorporated into them as the Album Of The Year. It's "The best researched guide to the key world roots albums of the year" (BBC Radio 3).

The BBC ceased its Awards For World Music after 2007, and so the fRoots Critics Poll Albums Of The Year continued in its own right as the de facto flagship industry awards. It has wide support including from all the previous partners in the BBC Awards and since 2008 has Amazon.co.uk as retail partner.
Voting has been completed, and below are the alphabetical listings of the nominees for the New Album Of 2010 and Best Reissue Or Compilation Of 2010.
This year's winners will be revealed exclusively by BBC Radio 3 in a special edition of World On 3 broadcast from 11.15 pm on Friday 3rd December, hosted by Mary Ann Kennedy and with fRoots editor Ian Anderson as guest. Full details including the Best Packaged Album winner will appear on the fRoots web site and in a dedicated Amazon.co.uk section from 4th December, and in the Jan/Feb 2010 double issue of fRoots published in mid-December.
fRoots Critics Poll: New Album of 2010: Nominees
Listings alphabetical
fRoots Critics Poll: Re-Issue or compilation of 2010
Listings alphabetical
The winner of Best Packaged Album of 2010 will be announced on 4th December.
All the winners to date can be found at http://www.frootsmag.com/pollwinners
Author:
World Music Central News Department
World music news from the editors at World Music Central