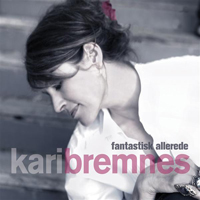 Kari Bremnes
Fantastik Allerede (Kirkelig Kulturverksted, 2010)
Norwegian singer-songwriter Kari Bremnes celebrates 30 years of recording, and 17 years of songwriting on the double-CD, "Fantastic Already." The recording culls through decades and features 33 tracks, and sure enough, a fan could spend an afternoon immersing his self in well-crafted songs performed in Norwegian. Bremnes has total control of her vocal instrument. She shapes each note, while painting each vocal phrase with meaning, and emotion.
Track 7, portrays a Mediterranean groove with immaculate vocals while track 8 features bluesy notes. The piece "Montreal" portrays a sultry theatrical atmosphere in which Bremnes seems comfortably at home (and she sings in English on this track).

Again, while the vocals and melodies appeal to me, the songs which fall mostly into a rock-pop realm, sound overproduced to my ears. Granted, when I say overproduced, I'm talking about subtler European
standards and not the oversaturated ear candy coming out of the U.S. mainstream at the moment.
Thankfully, you won't hear pumped up bass, and frenzied programmed drums on Bremnes' recording. And acoustic instruments balance out the landscape of most of the songs presented on these discs. In fact, the dobro, slide guitar and accordion on track 8 sound fabulous to my ears. Some real chestnuts appear on the discs and Bremnes' vocal phrasing contributes to the listening pleasure.
Patricia Herlevi hosts the healing music blog, The Whole Music Experience and she has contributed reviews and articles to World Music Central since 2003. She has also published articles in Early Music
America and Global Rhythm.
Buy the album from www.kkv.no
Author:
PatriciaHerlevi
Patricia Herlevi is a former music journalist turned music researcher. She is especially interested in raising music consciousness. She is looking for an agent and publisher for her book Whole Music (Soul Food for the Mind Body Spirit). She founded and hosts the blog
The Whole Music Experience and has contributed to World Music Central since 2003.