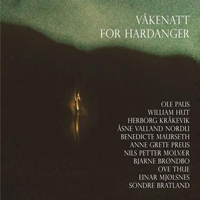 Various Artists
Våkenatt For Hardanger (Vigil for Hardanger) – (Kirkelig Kulturverksted, 2010)
The Norwegian label, Kirkelig Kulturverksted spearheaded another socio-political awareness project involving Norwegian musicians. "Vigil for Hardanger" brings attention to the gorgeous Hardanger District which is in danger of ruin by the Norwegian government's plans to build a 92 kilometer motorway and high-tension power cables with pylons through this the lake valley and forests. So activists and musicians combined their efforts in recording a compilation album in a rustic church.
Anyone who glances at the nature photography featured on the cover and CD booklet can see what's at stake. And the musicians provide a few glowing moments such as on track 4 with gorgeous female vocals
lingering over a melancholic atmosphere, track 5 with its bluegrass banjo, fiddle, and rambling bass, and the closing track with Nils Petter's elgiac trumpet accompanied by primal acoustic drums.

While I'm usually sucked in by a good cause, especially one involved with preserving the natural places we have left on the planet, I'm not excited about the production on this disc. The vocals hit the spot, but the programmed drums and synthesizers irritate me. If the possibility exists to experience allergic reactions to musical instruments, I'm a candidate for allergies to electronic instruments, including electric guitar, but especially the pitter patter of programmed drums.
And I feel that an all-acoustic album would have made a stronger statement in regard to protecting the natural world. After all, our need to progress further and deeper into the age of electronics has landed us in the quandary of modern living verses saving the planet.
Are environmentalists willing to give up their cell phones? How many musicians and activists are willing to give up their cars? And am I willing to give up the laptop in which I write this review and listen to recordings?
Patricia Herlevi hosts the healing music blog, The Whole Music Experience and she has contributed reviews and articles to World Music Central since 2003. She has also published articles in Early Music America and Global Rhythm.
Buy the album from www.kkv.no/.
Author:
PatriciaHerlevi
Patricia Herlevi is a former music journalist turned music researcher. She is especially interested in raising music consciousness. She is looking for an agent and publisher for her book Whole Music (Soul Food for the Mind Body Spirit). She founded and hosts the blog
The Whole Music Experience and has contributed to World Music Central since 2003.