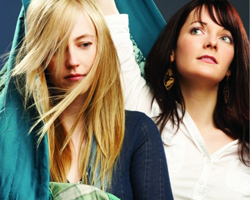 Canadian folk-pop duo Dala has signed with Compass Records for their first national US release Everyone Is Someone, in stores January 25th.
Drawing upon influences like The Beatles, Joni Mitchell, Neil Young and Bob Dylan, Dala write songs that are both catchy and insightful. Amanda's ethereal soprano voice blends seamlessly with Sheila's velvety alto, creating the lush harmonies that have become their trademark. The sheer joy with which they perform is infectious, turning first-time listeners into instant fans.
No strangers to the festival scene, they have made recent appearances at The New Orleans Jazz Festival, The Newport Folk Festival , The Edmonton Folk Festival, Falcon Ridge Folk Festival, and California's Strawberry Festival.
Amanda Walther and Sheila Carabine of Dala (the duo's name was formed by combining the two last letters of each artist's name) have come a long way in a short time. The two best friends, who met in their high school music class and wrote their first song together in 2002, have since performed at Toronto's legendary Massey Hall a total of seven times. With rave reviews from the media and the award for Best Folk Group from the Toronto Music Awards, these Canadian darlings are poised to expand the audience for their fresh brand of acoustic pop music.
Dala's new album Everyone Is Someone was released in Canada in 2009. It earned them their fifth Canadian Folk Music Award nomination, a Toronto Independent Music Award for Best Folk Group, and it was touted by The Irish Post as the Album of the Year. The song "Horses" was named one of the Top Ten Folk Songs of 2009 by National Public Radio's Folk Alley.
On the heels of these successes, they have spent the past year touring extensively. They were thrilled to be invited to play Pete Seeger's Clearwater Festival in New York State, on Mountain Stage and World Café Live, as well as The Newport Folk Festival (where they were the only Canadian act). The duo also toured the UK for the first time, debuting at Beford's Rhythm Festival where they performed alongside Donovan, the Wailers, and Billy Bragg.
In the summer of 2010, Dala's PBS special "Girls From The North Country" was broadcast across North America and is soon to be released on DVD. Also upcoming is a new Dala comic book written by Amanda "The New Adventures of Dala: Episode 1: From Scarborough to Newport."
Tour dates:
11-17-10 – The Spot Underground – Pawtucket, RI
11-18-10 – Iron Horse Music Hall – Northampton, MA
11-19-10 – Eighth Step at Proctors (GE Theatre) – Schenectady, NY
11-20-10 – Center for Arts in Natick – Natick, MA
11-21-10 – The Chocolate Church – Bath, ME
Tuesday, November 23, 2010
Christmas At Home @ J. Clarke Richardson Highschool Theatre
1355 Harwood Avenue, N, Ajax, ON L1T 4G8 (Canada)
Sunday, November 28, 2010
Folk Night At The Registry @ The Registry Theatre
122 Frederick St. , Kitchener, ON N2H 2L9 (Canada)
Thursday, December 2, 2010
"Girls From The North Country" show @ Brock University Centre For The Performing Arts
500 Glenridge Ave., St. Catharine's, ON L2S 3A1 (Canada)
Friday, December 3, 2010
The Gibson Centre @ The Gibson Centre For Community, Arts and Culture
63 Tupper St. West , Alliston, ON L9R 1E4 (Canada)
Sunday, December 5, 2010
Composite High School @ Geraldton Composite High School
Hogarth Ave W, Geraldton, ON P0t 1M0 (Canada)
Monday, December 6, 2010
Manitouwadge High School @ Manitouwadge High School
200 Manitou Road West, Manitouwadge, ON P0T 2C0 (Canada)
Wednesday, December 8, 2010
Dryden Cultural Centre / Crescive Auditorium @ Dryden Cultural Centre
100 Casimir Ave, Dryden, ON P8N 2H4 (Canada)
Thursday, December 9, 2010
St. Patrick's School @ St. Patrick's School
160 Hemlock, Atikoken, ON P0T 1C0 (Canada)
Friday, December 10, 2010
Townshend Theatre @ Townshend Theatre
444 McIrvine Rd, Fort Frances, ON P9A 1H8 (Canada)
Thursday, December 16, 2010
Foster's Inn @ Foster's Inn
111 Downie Street , Stratford, ON N5A 1X2 (Canada)
Friday, December 17, 2010
Hugh's Room @ Hugh's Room
2261 Dundas St W, Toronto, ON M6R 1X6 (Canada)
Saturday, December 18, 2010
Hugh's Room @ Hugh's Room
2261 Dundas St W, Toronto, ON M6R 1X6 (Canada)
Saturday, January 8, 2011
APAP Artist Showcase @ New York Hilton & Towers
1335 Avenue of the Americas, New York, NY 10019 (United States)
Tuesday, January 11, 2011
Westlock Cultural Arts Theatre Series @ R.F. Staples School
10015 104 ST, Westlock, AB T7P 1T8 (Canada)
Saturday, January 15, 2011
Cochrane Valley Folk Club @ Cochrane Valley Folk Club
22 Highway, Cochrane, AB T4C 1H2 (Canada)
Wednesday, January 19, 2011
Lloydminster Concert Series Association presents 'Dala' @ Vic Juba Community Theatre
Bag 6600, 2602 59 Avenue , Lloydminster, AB S9V 1Z3 (Canada)
01-08-11 – APAP (NY Hilton & Towers – Lincoln Ste 4th Fl) – New York, NY
02-05-11 – Harmony House – Webster, NY
02-11-11 – ECC Second Space Theatre – Eglin, IL
02-12-11 – ECC Second Space Theatre – Eglin, IL
03-05-11 – Walton Arts Center – Starr Theatre – Fayettville, AR
03-10-11 – McMillan Memorial Library – Wisconsin Rapids, WI
03-11-11 – University of Wisconsin – Parkside Comm. Arts Theatre – Kenosha, WI
03-12-11 – Forest Roberts Theatre – Marquette, MI
04-06-11 – Fine Arts Center at Castleton State College – Castleton, VT
04-07-11 – Common Fence Music at Channing Church – Newport, RI
04-08-11 – The Katharine Hepburn Cultural Arts Center – Old Saybrook, CT
04-09-11 – Chandler Music Hall – Randolph, VT
04-12-11 – Fine Arts Center at Castleton State College – Castleton, VT
04-13-11 – MCLA Presents / Massachusetts College of Liberal Arts – North Adams, MA
04-14-11 – Guthrie Performing Arts Center at the Sayre Theatre – Sayre, PA
04-16-11 – Concerts at the Crossing at the Unitarian Universalist Church – Titusville, NJ
04-29-11 – Historic Holmes Theatre – Detroit Lakes, MN
04-30-11 – Sheldon Theatre – Red Wing, MN
05-20-11 – Musikfest Cafe (Steel Stacks) – Bethlehem, PA
05-21-11 – Presbyterian Church of Chatham Township – Chatham Township, NJ
05-31 — 06-05-11 – Ordway Center for the Performing Arts – St. Paul, MN
07-16-11 – Mount Shasta Festival – Mount Shasta, CA
Recordings available: Who Do You Think You Are?, Angels & Thieves
Horses Video
Author:
World Music Central News Department
World music news from the editors at World Music Central