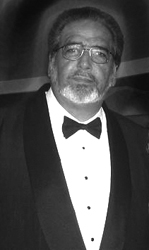 Latin music impresario Antonio "Tony" Moreno passed away on Sunday night, November 14th, in a Miami hospital of liver cancer complications. He died at 11:00 p.m. surrounded by relatives and friends.
Moreno started his career in the music business at 22. After leaving TH Records in 1984, he created his own label, MP (Musical Production) which became one of three largest independent Latin music companies in the United States.
Through this record label, he opened the doors to many talents. He was the first person who signed Dominican merenguero Eddy Herrera after he left the Wilfrido Vargas orchestra, in 1990.
"He was the man who, while I was Wilfrido's vocalist, said 'go ahead and become an independent artist because you will be great… I'll sign you'", said Eddy Herrera in his Twitter account.

Moreno emigrated from Cuba and settled in Miami shortly after Fidel Castro's revolution. He was also responsible for the launch of successful Puerto Rican salsero Tito Rojas. PM Records produced Sensual (1992) and other recordings followed: A mi Estilo, Por Derecho Propio, Humildemente, Pa'l Pueblo, and Alegrías y Penas.
Other artists in the label's roster include singers Oscar D' León, Tommy Olivencia, La Fórmula Perfecta, José Luis Rodríguez "El Puma", Lalo Rodríguez, Nice and Wild, Eddie Santiago, Roberto Roena, Tito Gómez, Willie Rosario, Maelo Ruiz, Puerto Rican Power, Anthony Cruz, Nino Segarra, Mimi Ibarra, BigBoy, Pedro Jesus, José Virgilio Peña Suazo, Pochy Familia and Henry García.
Four years ago, Moreno's label, MP, merged with J&N Records, owned by Dominican producers Juan Hidalgo and Nelson Estévez, remaining as vice-president of this record company in order to promote to the artists of both companies in the United States.
"More than a colleague today I lost a friend", declared Juan Noble. "With his charisma, Tony knew how to reach all the people around him during the course of his life."
Tony Moreno leaves a large family composed by his wife Julia wife, his 4 children with his first wife Melba, his 10 grandchildren and the many people whose lives he touched.
The wake will be held at Memorial Plan Funeral Home at 9800 Coral Way in Miami. A mass will be held Wednesday, November 17th, at 10:00 am at Iglesia Inmaculada Concepción (Immaculate Conception Church) in Hialeah. The burial will be Thursday, November 18th at the Memorial Vista Gardens, located at 14200 NW 57 Avenue, in Hialeah, at 11:45 in the morning.
Author:
World Music Central News Department
World music news from the editors at World Music Central