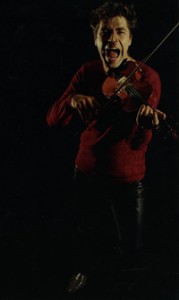 'Islanti' is a song by the Finnish composer Ville Ojanen. 'Islanti' is taken from his latest album Hero, which is a journey to the ethnic and orchestral crossover world with strong Scandinavian influences.
Islanti is a multilayered piece of music that constantly grows and develops in to a very emotional direction. This is why it was chosen as a music video to present the whole album. The Islanti– music video is significant in many ways, because it is not very common that this kind of music gets a video at all.
Produced by the Finnish Tuotantoyhtiö Heija and directed, cinematographed and edited by Janne Heinonen, the music video brings to life the strong feelings and cinematic story telling of the song, which made the director to imagine the story and visuals instantly.

The music video is about an older period of time, where the forbidden love between girl and boy ignites wrath between two different communities. Questions about life and death are explored throughout the video. The music video was shot during one weekend by the volunteer cast and crew mainly.
Ville Ojanen is a crossover violinist/composer originally from Kaustinen. Ville mixes the folk tradition and contemporary musical influences to create new sounds and ideas. His first album Rautavaara was a Teosto-award (for creative composed art) nominee 2005.
His new album "Hero" is about heroes, intuitions and strong emotions. Ville Ojanen has previously played in bands such as Troka and Folkkarit, and he has performed several times in European and American festivals.
Janne Heinonen is a director born and working in Saarijärvi, Finland. Heinonen has written and directed several short films, including award-winning Taivasmatka (Journey To Heaven) and Niin lähellä, niin kaukana (Until The Summer Ends), which was distributed on DVD in Finland.
The latest documentary was Muissa maailmoissa, TV-premiered on YLE Teema, about the Finnish painter Samuli Heimonen. For four years he has also screenwrited Operaatio Hurrikaani, a childrens adventure series for the Finnish Broadcasting company, YLE TV2.
In 2002 Heinonen was awarded with special prize for the short film Taivasmatka at the Tampere International Short Film Festival. Director trademarks are highly visual style and deeply moving stories.
More about the artists:
Author:
World Music Central News Department
World music news from the editors at World Music Central