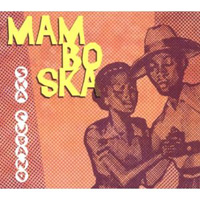 Ska Cubano
Mambo Ska (Casino Sounds CAS20102, 2010)
Ska Cubano's self-titled debut CD, Ska Cubano, was a clever and musically substantial mix of Jamaican ska, Cuban son and Colombian cumbia that sounded absolutely meant to be. The follow up Ay Caramba! upped the campy factor a notch but still came across as an accomplished work of serious fun. Now with
Mambo Ska, this Anglo-Cuban outfit keeps it cheeky without lapsing into a novelty act and plays as tightly as ever.
Recorded partly in Cuba and with a vintage air throughout,
Mambo Ska doesn't stray from what has become Ska Cubano's signature style. If anything, they've gotten even looser. A seemingly higher ratio of cumbias shows how closely related Jamaican and Colombian rhythms are, while the Cuban side of things is prominent on the title track (which sounds like it could be celebrating a dance craze from decades ago), a rearranged standard or two and the tres guitar that tempers the pace. And while the pace, by the way, feels a shade more relaxed than on the band's previous releases, Ska Cubano still has a knack for tapping into a certain manic energy that drives the cheerful lycanthropy of "Lupita," the third-wave ska feel of "Identity" and blues inflections on "Hit the Track" straight to the gut.

Most of the songs are party-ready, making it even more impressive when the band goes deeper. They do so most effectively with "La Gaita Sabrosa," a marimbula-fueled bit of moodiness, and "Megumi's Amor" which gives an idea of how ska might have sounded had it come about in Havana rather than Kingston.
Retro sounds up to date in Ska Cubano's capable hands, and the pleasures of this album are similarly as welcome as old friends.
Buy the album:
Author:
Tom Orr
Tom Orr is a California-based writer whose talent and mental stability are of an equally questionable nature. His hobbies include ignoring trends, striking dramatic poses in front of his ever-tolerant wife and watching helplessly as his kids surpass him in all desirable traits.