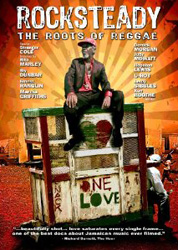 Rocksteady: The Roots of Reggae (Lightyear Entertainment LIT-DV-56418, 2010)
While feature films like The Harder They Come and Rockers had story lines that included a good many truths about the Jamaican music industry, there are documentaries (beginning with 1977's Roots, Rock, Reggae) which explore much of the same territory, gleaning ample dramatic effect from the music itself, the people who create it and the forces that impact it. And guess what? One such documentary is now on DVD.
I haven't heard the corresponding soundtrack album to Rocksteady: The Roots of Reggae, but if it's as much of a delight as the documentary itself, I really must get around to it. After ska and before reggae there was rocksteady, a pulsating, urgent music that represented post-independence Jamaica settling into a groove as it was getting more conscious and celebratory in equal measure.

The rocksteady era only lasted a couple of years- 1966 to 1968 is the generally accepted time frame -yet it's when so many of Jamaica's greatest voices were first heard. Rocksteady was, after all, more of a singer's music than the fast-paced ska preceding it.
Many of those voices are still ringing out today, and in Rocksteady: The Roots of Reggae, the story they tell in words and music is one that's deeply heartfelt. Through interviews, studio sessions, archival footage and updated glimpses of the places where it all began, rocksteady is revisited by the likes of Ken Boothe, Stranger Cole, Leroy Sibbles, Marcia Griffiths, Judy Mowatt, U-Roy, Derrick Morgan, Hopeton Lewis, the Tamlins and others.
Along the way we see the social, cultural, religious and creative factors that shaped the music and continue to make it relevant today. Despite a few superfluous moments (Rita Marley's reminiscences of her husband Bob, for example, seem rather thrown in), you really couldn't ask for a better overview of an all-important phase in Jamaica's musical history.
Special features on the DVD include a peek behind the scenes and a rousing one-hour rocksteady concert shot recently in Montreal with many of the documentary's stars in fine form. Top notch.
Buy the DVD:
Author:
Tom Orr
Tom Orr is a California-based writer whose talent and mental stability are of an equally questionable nature. His hobbies include ignoring trends, striking dramatic poses in front of his ever-tolerant wife and watching helplessly as his kids surpass him in all desirable traits.