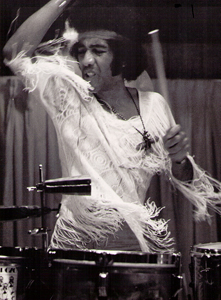 Timbalero, band leader and composer (Hector) Rudy Regalado passed away on November 4th, 2010, in Las Vegas, Nevada at the age of 67. Born in Venezuela, Regalado was one of the top Latin Rock timbaleros based in East Los Angeles, California area during the 1970s. Regalado played with the Latin Rock band El Chicano which surfaced during the Santana and Malo Latin Rock era.
El Chicano recorded 7 albums for MCA and had a series of hits, including the song"Tell Her She's Lovely", included in their 1973 self-titled LP, El Chicano, that also went Gold for the group. El Chicano also composed the theme song for the 1970s television series "Baretta."
El Chicano included Bobby Espinosa on Hammond B3 organ, Freddie Sanchez on bass, Mickey Lespron on guitar, and the fiery rhythm foundation of Andre Baeza on congas, Rudy Regalado on timbales, and John De Luna on drums. Freddie Sanchez and Bobby Espinosa rejoined forces in the 1990s to work on new music, including two other original members, Rudy Regalado and Jerry Salas. El Chicano continues to be active with a combination of original and new members.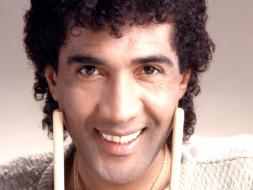 Rudy Regalado recorded five albums with El Chicano in the 1970s. In addition, he participated in a variety of sessions with the Zawinul Syndicate, Quincy Jones, Alphonse Mouzon, Caravana Cubana, and many others.
After spending 12 years with El Chicano, Rudy Regalado formed his own All-Star Band in 1983. Initially known as Todos Estrellas, Rudy's Orchestral Dream Team soon changed its name to Chevere.
As part of an El Chicano reunion in 2009, Rudy Regalado performed in front of over a 100,000 screaming fans at the 40th anniversary of Woodstock in San Francisco.
I saw Regalado in action. He was known for his fiery timbales style. One of the highlights of his life was a timbales duel with timbales legend, the King of the timbales, the late Tito Puente.
Author:
Les Moncada
Les Moncada is a Latin Jazz orchestra leader and conguero for over 40 years. He was born in Oakland, California and currently resides in Sacramento, California.
Les Moncada is a student of conga and batá master Francisco Aguabella, a friend of the late promoter Bill Graham, vibraphonist Cal Tjader, Latin Jazz band leader Pete Escovedo, conguero Mongo Santamaria and many, many more.
He has been writing for many years for World Music Central.
Les has several Facebook sites: Timbales and Congas Bongo Bata & bells; Conguero, Professional Conguero & their Instrument; Bongocero, Professional Bongocero their Instrument; Alambres Dulces, Tres, Cuatro & Laud