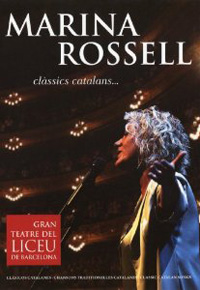 Marina Rossell
Clàssics Catalans…Gran Teatre del Liceu de Barcelona (World Village, 2010)
Only an accomplished vocalist/folkloric interpreter could open a concert with a fragile love song sung a cappella ("Touch Me") and nearly bring the house down. However, Mariana Rossell, a Catalan folkloric specialist delivers a commanding performance ripe with heartfelt emotions.
On her CD from the concert released in 2009 on World Village, I could already hear Rossell's immaculate phrasing, and felt amazed at the life she breathed into 100 year old songs. The DVD concert offers an hour and half of sheer pleasure as the collection of songs reflecting about love, death, patriotism for Catalonia, and defiance. And if that's not enough, Rossell treats each story as if they're her own and she's a consummate storyteller too.

The DVD, "Clàssics Catalan" provides the entire sold-out concert along with a 30 minute documentary about a handful of the songs Rossell performed. In the documentary we see Rossell entering a shop specializing in archival sheet music. And we witness her excitement as she discovers old gems, mainly dance music (sardana) or sits at the piano once owned by a composer of these old songs—his ghost lingers around Rossell who in turn glows at her discoveries. But mostly the documentary supplies viewers with passion for these old songs.
The concert footage proves that when carefully arranged and with an array of musical guests, not to mention top-notch musicians, folkloric music provides exciting entertainment. I know that when I watched the concert tears welled in my eyes several times and by the end of the concert, when all the musicians, including a girl's choir (Cor Vivaldi), a drum troupe (Coetus Orquestra de Percussions), and a Basque accordionist (Kepa Junquera) to perform a reprise of "Mother of the World" the tears broke through the dam.
Prior to the finale, Rossell performed a defiant a cappella song, "Virolai" and footage of audience members rising out of their seats to salute both the singer and the song's sentiments brings on a heart-shattering moment.
Rossell, who shares a birthday with Saint Anthony (she mentions this in the concert) and donkeys, possesses a talent that holds her audiences captive. As a music interpreter, she's in the same category with Greek musician Savina Yannatou, both of these women deserve the title of musical alchemist as they transform old, even forgotten songs into their own works of beauty. They possess the ability to reach the hearts and souls of their listeners with each carefully sung phrase and the ability to attract the best musicians for their work.
I'm not through with this DVD yet. I plan on showing it to family and friends. Too bad my Spanish grandmother passed away over a year ago. She would have enjoyed this Catalan music and certainly the bit about lace-making. My grandmother also made lace, worked as a seamstress, and loved Latin poetry. These heartfelt songs would have brought tears of joy to her eyes, I'm sure. Though I'm not sure she would have understood the Catalan language in which the songs are sung. In any case, viva España!
Patricia Herlevi hosts the healing music blog The Whole Music Experience, whose mission is to preserve musical traditions and promote music in the healing arts. Patricia also teaches music appreciation courses in western Washington and writes novels. She dedicates this review to the memory of her Grandmother Celina Balquin who passed away in 2009 at the age of 107.
Buy the DVD:
Author:
PatriciaHerlevi
Patricia Herlevi is a former music journalist turned music researcher. She is especially interested in raising music consciousness. She is looking for an agent and publisher for her book Whole Music (Soul Food for the Mind Body Spirit). She founded and hosts the blog
The Whole Music Experience and has contributed to World Music Central since 2003.