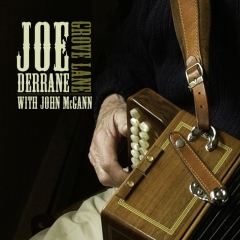 One of the masters of Irish music, jor Derrane has a new album titled Grove Lane. The album showcases Derrane at the height of his creativity on the button accordion. Grove Lane was recorded at Derrane's home on Grove Lane in Massachusetts—the home he and his wife Anne shared for 53 years before her passing in 2008—over a series of sessions with acoustic guitarist John McGann.
Notable tracks include the original "Tango Derrane" and the romantic ode "Waltzing with Anne", written in memory of his late wife. No one sounds like Joe Derrane or has as significant effect on the rising generation of aspiring button accordion virtuosos. Grove Lane Lane firmly establishes Derrane as one of the great masters of his instrument.

Performers include Mick Moloney, Joanie Madden, Seamus Egan, Billy McComiskey, Seamus Connolly, John Doyle, Brian Conway, Jerry O'Sullivan,John Whelan, Felix Dolan, Brendan Dolan, Tommy O'Sullivan, John McGann, Rose Flanagan, Patty Furlong, Margie Mulvihill, Joe Deyer, and Melanie Deegan, and additional surprise guests.
The Boston-born son of Irish immigrants, Joe Derrane is among the finest button accordionists in the history of Celtic music. He is also a somewhat elusive legend in the genre. After recording during the 1940s and '50s, he disappeared from the traditional music circuit for thirty-five years, popping up again in 1994 at the Irish Folk Festival at Wolf Trap in Vienna, Virginia.
Since his career's resurgence he has proved wrong F. Scott Fitzgerald's famous quote "there are no second acts in American lives." Over the past 16 years, Derrane has written 22 tunes and his current output is the most imaginative and inventive of his career. In 2004 Derrane received one of the highest honors for a traditional musician: the National Endowment for the Arts' National Heritage Fellowship.
Derranne will perform a special concert in Fairfield, Connecticut:
An Irish Spectacular All-Star Concert Celebrating
Living Legend & Special Guest Joe Derrane.
Saturday, November 13th / 7:00 PM
Fairfield Theatre Company StageOne
70 Sanford Street
Fairfield, Connecticut
Buy the album:
In North America: Grove Lane. Other recordings available:
In Europe: Grove Lane. Other recordings available:
Author:
World Music Central News Department
World music news from the editors at World Music Central