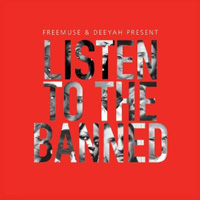 The album Listen to the Banned will be available in North America at the end of this month. Listen to the Banned is a unique collection of contemporary songs by artists who have been censored, persecuted, taken to court, imprisoned and even tortured for a very simple reason – their music.
Presented by Freemuse and Deeyah, the compilation is a distinctive musical statement by artists who are united in one single, important issue – the protection of the freedom of musical expression, a freedom many take for granted.
Their stories are told in the accompanying booklet. They include the story of Lapiro de Mbanga, who is currently imprisoned in Cameroon for a song critical of his country's President and the story of Mahsa Vahdat, prevented from performing solo shows in her native country Iran.

Also included are Chiwoniso Maraire (Zimbabwe), Farhad Darya (Afghanistan), Marcel Khalife (Lebanon), Tiken Jah Fakoly (Cote d'Ivoire), Abazar Hamid (Sudan), Kamilya Jubran (Israel / Palestine), Kurash Sultan (Uighuristan), Ferhat Tunc (Turkey), Aziza Brahim (Western Sahara), Haroon Bacha (Pakistan), Fadal Dey (Cote d'Ivoire) and Amal Murkus (Israel / Palestine).
"Music can be dangerous!," says Freemuse's Ole Reitov. "A month ago a bomb blast at a concert by Afghanistan's top singer Farhad Darya injured 13 fans. Fortunately Farhad survived.
Lapiro de Mbanga is still imprisoned in Cameroon. He recently suffered typhoid fever and severe lumbago. We continue our campaign for his release.
Ferhat Tunc is facing 15 years imprisonment in his latest court case in Turkey."
According to Reitov, the CD has received fine reviews in Europe and was selected for the World Music Charts Europe by broadcasters from more than 35 countries.
Freemuse is the only international organization dedicated to protecting musicians and composers' right to freedom of expression. The CD has been compiled by Deeyah, an artist who has stopped performing after having endured constant intimidation and physicals threats throughout her career.
Buy the album:
Author:
World Music Central News Department
World music news from the editors at World Music Central