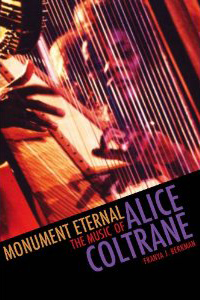 The world knows legendary jazz saxophonist and composer John Coltrane well, while his talented wife, Alice Coltrane, remains somewhat of an enigma. Now, just three years after her death in 2007, Monument Eternal, The Music of Alice Coltrane, by Franya Berkman, gives this fascinating, complex woman—a musician and composer in her own right—the in-depth treatment she deserves.
Alice Coltrane recorded over twenty-five jazz albums for Impulse and Warner Brothers labels in the late 1960s and 1970s, working with many of the jazz headliners of the time. She played piano in John Coltrane's last rhythm section (controversially replacing McCoy Tyner) before her husband's death in 1967. But her legacy goes beyond jazz.
Her music began to synthesize the spirituals of her youth in Detroit and the Eastern music of Hindu hymns. Her personal spiritual journey led her to found an ashram in southern California in the late 1970s. Coltrane's childhood experiences playing for the African American congregations in Detroit influenced her later transition into the role of guru Swamini Turiya-sangitananda.

Her foray into devotional music was just one facet of Alice Coltrane's lifelong experimentation with music. Alice explored a vast array of musical genres in her lifetime including gospel, rhythm-and-blues, bebop, free jazz, Indian devotional song, and Western art music.
This long-awaited biography of Alice Coltrane will be of interest to fans of jazz and avant garde music; students of American, African American, and gender studies; and those interested in the spiritual exploration in America of the late 1960s and 70s.
Franya Berkman first experienced Alice Coltrane's music in a yoga class and was immediately hooked. The music that was "penetrating, soulful, and unlike anything I had ever heard," Berkman writes. This first experience set off a fervent search for more, which eventually led Berkman to a meeting with—and opportunity to interview—Coltrane. Berkman is currently an assistant professor in the Department of Music at Lewis & Clark College.
Buy the book:
Author:
World Music Central News Department
World music news from the editors at World Music Central