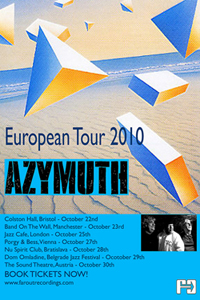 Samba jazz pioneers Azymuth will be touring England, Austria, Slovakia and Serbia in October 2010. Combining funk, soul and jazz with Samba, Azymuth are the legendary Brazilian three piece orchestra who were responsible for creating a new sound and genre of their own, which they call 'Samba Doido (Crazy Samba)'.
Jose Roberto Bertrami (keyboards and pianos), Ivan 'Mamao' Conti (drums) and Alex Malheiros (bass guitar) make up the trio. They are legendary musicians in Brazil, who together have released over 20 albums in 35 years.
Azymuth have toured the very best venues over the decades, including Los Angeles' Echo Plex, Paris' New Morning & London's Jazz Café. Azymuth have graced top jazz festivals Monterrey, Montreux, North Sea Jazz & Glastonbury, and the finest venues including Blue Note of New York, Tokyo & Milan.

Pianist, songwriter and band leader, Jose Roberto Bertrami is recognized as one of the legends of Brazilian music, remaining one of its most influential keyboardists. With his unique playing and writing style, full of color and harmony, he is responsible for the intensity and maverick approach of Azymuth.
Ivan Conti is Azymuth's drummer and percussionist. Known to his friends as Mamao, he is a spontaneous and incredibly energetic drummer, and the real hardcore Carioca of the trio.
On bass is Alex Malheiros, who learned his trade playing with the master of Brazilian swing, Ed Lincoln. Like the rest of the band he has performed and recorded with the greats of Brazilian music. Alex is respected in Brazil as one of the original groove masters.
Tour dates:
October 22nd 2010 – Colston Halls – Bristol (England)
October 23rd 2010 – Band on the Wall – Manchester (England)
October 25th 2010 – Jazz Café – London (England)
October 27th 2010 – Porgy & Bess – Vienna (Austria)
October 28th 2010 – Nu Spirit Club – Bratislava (Slovakia)
October 29th 2010 – Dom Omladine – Belgrade (Serbia)
October 30th 2010 – The Sound Theater – Wels (Austria)
Recordings available:
In North America: Telecommunication, Butterfly, Light As a Feather, Cascades & Rapid Transit, Outubro, Tightrope Walker, Flame / Spectrum, Latin Essentials, Light As a Feather, Partido Novo, Jazz Carnival
In Europe: Telecommunication, Butterfly, Light As a Feather, Partido Novo
Author:
World Music Central News Department
World music news from the editors at World Music Central