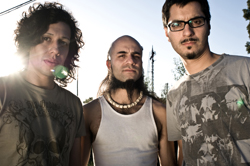 Argentine band Tremor was selected as one of the artists to showcase at WOMEX 2010. With over 700 applicants, only 30 were chosen, and Tremor made the cut. With an official showcase at Womex 2010, Tremor is planning on bringing the future sound of South America to the world.
Womex is the planet's largest world music conference, where all the industry's players go to see what's new and innovative. And as these conferences go, bands have to pay their own way.

"We're looking for help to front the costs of getting there,' says the band. "We're working hard to book a tour with more dates to cover the large expense of travel, but we are not assured of covering our costs. We're calling on music fans to help an indie band out."
There are many exclusive goodies in return for pledging, including tracks and the full-unreleased Tremor album (only available in Argentina).
Tremor is a Buenos Aires band that explores South American folklore while experimenting with technology, best summarized as "digital folklorico." Tremor is the only live band on the ZZK Records roster is more aligned with the electronic textures of Prefuse 73 and the haunting psychedelia of Animal Collective, then it does with its DJ/Producer label-mates. Think of their sound as Prefuse 73 jousting with Animal Collective in the Andes Mountains and jungles of South America.
Tremor is Leonardo Martinelli, a multi-instrumentalist and composer with ten years of experience scoring film and theater in Argentina. Together with Camilo Carabajal and Gerardo Farez, Tremor deftly combines IDM with the sound of Northern Argentina where guitars, drums and other instruments breathe to the beat of computer bleeps. Tremor performs live with native Argentine instruments like the charango guitar, the bombo legüero drum, keyboards and synthesizers.
Contribute to the travel fund: copenhagen
Author:
World Music Central News Department
World music news from the editors at World Music Central