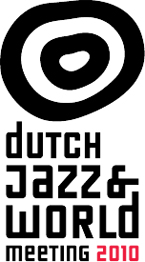 The first Dutch Jazz & World Meeting will take place in Amsterdam from December 1-3, 2010. During the event, 31 prominent jazz and world music acts from the Netherlands will present themselves to both national as well as international music professionals. Music Center The Netherlands announced the complete line-up of the showcases.
On Thursday December 2 and Friday December 3, the following acts will be performing in the Melkweg and the SugarFactory:
World music: Amsterdam Klezmer Band, Arifa, Baraná, Combinatie XVI, Ghetto Flow, Hotel, Izaline Calister, Kuenta I Tambu, Lenneke van Staalen, Lilian Vieira & Rogerio Bicudo, Maghreb Mania, Mdungu, Minyeshu, Namgyal Lhamo, Suzanna Lubrano and Widosari.
Jazz: Ambush Party, Artvark Saxophone Quartet, Benjamin Herman Quartet, Corkestra, Elastic Jargon, Eric Vloeimans' Gatecrash, Gareth Davis & Machinefabriek, Harmen Fraanje Avalonia Trio, Jasper Blom Quartet, Jungle Boldie, Knalpot, Lackritz, The Ploctones, Sanne van Hek & Koenraad Ecker and Simin Tander Quartet.
The concerts are open to both music professionals as well as the public. Tickets are already available via www.melkweg.nl. The Dutch Jazz & World Meeting 2010 officially opens on December 1 at the Bimhuis.
The showcase program of the Dutch Jazz & World Meeting was put together by a team of independent music programmers: Huub van Riel (Bimhuis), Sander Grande (North Sea Jazz Festival / Mojo Concerts), Frans Goossens (Melkweg / Amsterdam Roots Festival) and Danka van Dodewaard (Rasa).They made a selection from the roughly 300 submissions.
Conference
During the daytime on December 2 and 3, a series of panels and interviews will examine the key factors that are influencing world music and jazz, in the Netherlands as well as in the rest of the world. These meetings will take place in the halls of Felix Meritis in Amsterdam.
For two days, this building on the Keizersgracht will be the central location for all the professional music programmers, journalists, bookers, and agents in the field of jazz and world music. In addition, Dutch impresarios, bookers and acts will be presenting themselves at the 'information market' in Felix Meritis. This two-day conference is only open to professionals; this also applies to the late-night sessions in the Eden Amsterdam American hotel.
Dutch Jazz & World Meeting
The Dutch Jazz & World Meeting is an event held every two years to promote Dutch jazz and world music internationally. This communal platform for jazz and world music is intended for both foreign professionals as well as everyone in the Netherlands who is professionally involved with jazz and world music. The Dutch Jazz & World Meeting 2010 is organized by the Music Center The Netherlands.
More at www.djwm2010.nl
Author:
World Music Central News Department
World music news from the editors at World Music Central