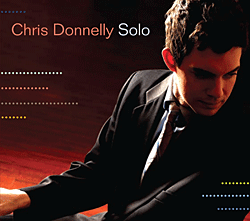 Chris Donnelly
Solo (Alma Records, 2010)
I've already listened to Canadian jazz pianist Chris Donnelly's recording "Solo" several times. Donnelly's approach to jazz piano falls on the cerebral side and my listening skills come from the heart more than the brain. So I felt stumped a few times deciphering the musical map of the young pianist—though I will say this guy sure knows his way around the piano. And his virtuoso playing blows the mind.
He covers tunes by Bill Evans, "Very Early," Bud Powell, "Hallucinations," Charlie Parker, "Donna Lee (Variations)" and Hoffman/David/Livingston, "Cinderella Medley—So This is Love/A Dream is a Wish Your Heart Makes," but the bulk of the album includes original compositions.

While Donnelly redefines jazz on his terms (see the liner notes), you can't help but hear some classical training. He's married to an opera singer too. He gives nods to French composers Faurè and Satie, but it was only after listening to piano works by Maurice Ravel performed by fellow-Canadian Andrè LaPlante, that I experienced an ah-hah moment that lead me to clarity about Donnelly's style, which possesses elements of jazz, blues, and European classical. In a way, he resembles a young Duke Ellington, but without the swing.
And while I say that he's a cerebral player, he also performs with great tenderness. Take a listen to his compositions "For the Drifters" and "Song in B Minor-Eva" which wax tenderness and provide vulnerable moments. But then he's not a musician to shy away from crazy passages that zig-zag and collide into one another which can be heard on the Charlie Parker piece.
I don't always know where Donnelly is heading, which can feel unnerving, or like a hallucination, but all jokes aside, this youthful player promises to make waves if not just in Canada, then beyond North America. Perhaps he will redefine solo jazz piano for his generation and those to follow.
Patricia Herlevi hosts the healing music blog The Whole Music Experience. She has been writing about world music, jazz, classical music for several years and teaches music appreciation classes in Western Washington. She also writes novels and is working on a book that combines the healing power of music with an exploration of global music traditions, "Whole Music." She seeks a literary agent and publisher.
Author:
PatriciaHerlevi
Patricia Herlevi is a former music journalist turned music researcher. She is especially interested in raising music consciousness. She is looking for an agent and publisher for her book Whole Music (Soul Food for the Mind Body Spirit). She founded and hosts the blog
The Whole Music Experience and has contributed to World Music Central since 2003.