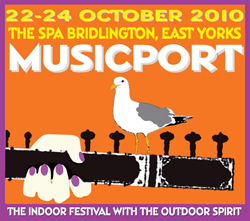 Musicport World Music festival is round the corner taking place from 22nd – 24th October in Bridlington. Angelique Kidjo apologized for having to pull out, apparently she has a date with Bill Clinton. She is to be replaced by the equally brilliant Dobet Gnahore as the Saturday night headline act.
For those of you not heading up to Bridlington on the Saturday night then Manu Chao is playing a one exclusive at the Corent in London. [ http://www.gondwanasound.co.uk/node/1263 ]
Sandblast, the arts organization who worked with Tiris and are building recording studios in the Saharawi refugee camps, want to let you know about their exciting event on 7th October at UCL – London.

A screening of the award winning and very powerful new documentary 'El Problema' (The Problem), filmed
(clandestinely) over four and a half years by Spanish directors Jordi Ferrer and Pablo Vidal inside the occupied territories and based on extensive testimonies from Saharawi activists and others. The documentary film highlights how all physical expressions of Saharawi identity are forbidden and even the use of the name Western Sahara or the word 'referendum' is a "problem". [ http://www.gondwanasound.co.uk/node/1265 ]
Pete Seeger, american folk icon is facing mounting criticism after his proposed participation in an Israeli environmental initiative. Inspired by the cultural boycott of apartheid South Africa, the Palestinian people have been asking international artists, since 2005, to refuse to perform in Israel. Over forty groups have already written to him joined recently by Karl Dallas, veteran campaigner, music journalist and broadcaster. Just what has upset them is in the letter published in the full article. [ http://www.gondwanasound.co.uk/node/1268 ]
The Raago trio embark on their European and American tour with a number of dates extending until the end of October featuring Bobo Konate, Andra Kouyate and Andreas Fulgosi. We are told that, the word "Raaga" meaning "market" comes from the local Morée dialect from Burkina Faso which fittingly describes the
way these musicians create their music – like exchanges in a West African Market!
[ http://www.gondwanasound.co.uk/node/1267 ]
fRoots editor Ian Anderson is being presented with a WOMEX award this month and as the magazine gears up for the industry networking event of the year, it still needs your help to ride out the recession. With Christmas and other festivals coming up why not consider a subscription, they've got some fat discounts, especially for under 25's in full time education….[ http://www.gondwanasound.co.uk/node/1259 ]
If Akwaaba music were based in Sheffield they would be hailed as "street" for having their finger on the pulse and releasing the freshest Nu African sounds. Whether its the hard house, bassline heavy urban crossover sounds of hiplife, kudoro or coupe calle or the more traditionally rooted sounds, all their releases come from African artists recording their music in Africa. We're getting rid of the grey hairs with some hair dye and have now got in step with the label. Our album of the week comes from Arc Djebe & Zozodede and they have
generously allowed one of their tracks, Kumble to be downloaded for free..
[ http://www.gondwanasound.co.uk/node/1277 ]
This seems to be a crazy time of the year for new releases and live gigs we've published details of some of the new releases from the Creole Choir of Cuba, Huun Huur Tu, Los De Abajo, Dhoad Gypsies of Rajasthan and the Asmara All Stars from Eritrea…some of which we'll have on the broadcast this week.
…and ahead of the full release next year, we have an exclusive sneak peak at Broadcaster's follow up release "Secondary Transmission". In timely fashion as Peggy Seeger is due to play Sheffield's Boardwalk on 21st October, Lew sent us a mix in progress Bad Bad Girl..Peggy Seeger as you have never heard her before.
keep an eye on the what's on section where there is exciting news of Dub Colossus only UK date with the Krar Collective in London and a drum workshop with Djembe fola, Iya Sacko here in Sheffield.
[ http://www.gondwanasound.co.uk/node/1278 ]
If you're in West London then make a date with Deglulen who are playing afro-manding grooves from West Africa for West London. [ http://www.gondwanasound.co.uk/node/1278 ]
Well that's all the news …just the music left. Join me every Friday 9am – 10am on Sheffield Live! 93.2FM or [ http://www.sheffieldlive.org ]
The podcast archive is also available [ http://www.sheffieldlive.org/podcast/index.php?cat=GondwanaSound ]
Author:
Jill Turner
Jill Turner contributes to Songlines Magazine, World Music Central and is on the fRoots critics albums of the year panel. Her radio show GondwanaSound broadcasts on Sheffield Live! 93.2FM to the fourth largest city in the UK and is carried on both Radio Groovalizacion and African Internet Radio.