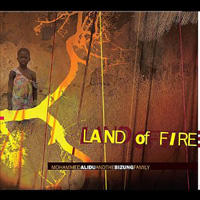 Mohammed Alidu and the Bizung Family
Land of Fire (Black Eye Watching, 2010)
Talking drum is among my favorite drums, not just for its magical references, but its invigorating timbre symbolizes African music for me, especially the music of West Africa. The musical traditions passed down from one lineage to the next also holds significance and is a bit hard to fathom in the West where children forge a career in music even if their parents possessed no musical gifts or interests.
Many traditional African musicians who followed a musical lineage immigrate to the West where they hook up with eager western musicians who enjoy stepping into a different cultural realm.

I believe that embracing other cultures benefits us all, but musically this doesn't always translate in my opinion, except in the realm of Afro-pop where rules can be broken and popular western music genres meld with African music traditions.
Sweeping western melodies and structure of verse-refrain-verse creates a familiarity to western listeners as you can hear on the titular track of talking drummer Mohammed Alidu's CD, "Land of Fire ". Kit drum plays alongside the talking drum (fantastic talking drum breaks in the song), bass and angular guitar frame the call & response vocals and the strong melody creates its own groove, even if the song's hook sticks in my head for the remainder of the day. (Argh!)
In the past, I was a bigger fan of Afro-Pop, but these days, some of the production seems too busy to my ears. I enjoy multicultural music half as much as I did in the past and I would have loved to have heard some drumming only tracks on this recording or more songs like the opener, "Zomnilansala". "Salabe" seems too melancholic for my taste, and a few of the tracks are littered with electric guitar solos which jar my senses. However, a good balance is struck on "Only Love," a peaceful ballad or for some folks, chill out music, no doubt. "Take a Look" possesses a Congolese groove whereas, the follow-up "Zabli Zabli" brings in a funk element causing me wonder if I landed in Nigeria or Benin.
"Land of Fire " holds up as an independent release, but might have to muscle its way onto community radio shows against some bigger label contenders. With so many musical influences and styles found on this recording, it lacks continuity or a signature sound. The talking drum pulls all the threads together in this multicultural Afro-pop experience. But I doubt this group will break through this year onto the international scene. For now, Mohammed Alidu and the Bizung Family might draw the appreciation of hardcore Afro-pop American fans and the support of its local community.
Patricia Herlevi hosts the healing music blog, The Whole Music Experience. She's covered world music since 2003 and currently teaches music appreciation classes in western Washington. She's working on a book, "Whole Music" which marries the healing power of music with musical cultures. She also writes fiction.
Buy Land of Fire
Author:
PatriciaHerlevi
Patricia Herlevi is a former music journalist turned music researcher. She is especially interested in raising music consciousness. She is looking for an agent and publisher for her book Whole Music (Soul Food for the Mind Body Spirit). She founded and hosts the blog
The Whole Music Experience and has contributed to World Music Central since 2003.