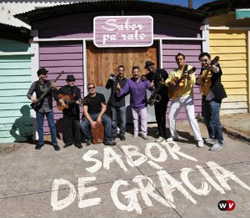 Sabor De Gràcia
Sabor pa' rato (World Village, 2010)
Marrying the seductive rhythms of Cuba to the gypsy music of Catalonia (Spain), Sabor de Gràcia gives a youthful facelift to Catalan rumba. Imagine the Gypsy Kings melding with American funk and Cuban salsa and you'd come close to describing the hip-swaying recording, Sabor pa' rato. However, the Cuban influences rise to the top of the mix sometimes overshadowing the gypsy roots.
Those seeking the gypsy influences would do best to check out track 2, "Hambre, basta ya," track 4, "Nuestra cultura," track 8, "Siéntelo," and "Sinelas Capoeira" (these track has elements of both the Caribbean and gypsy roots), track 9, "Gracias corazón" and so on.

Music for me is all about mood and I rely on upbeat music to release me from doldrums or procrastination, which this album does quite well. Sabor pa' rato provides high-octane music delivered with passion to burn. You can hear the collective enthusiasm of these musicians on every track.
The combination of Spanish guitar, bass, horns, piano, and Afro-Latin percussive grooves entice listeners to dance and not just that, tear up the dance floor whether in a club or in the kitchen while cooking dinner. My only crit is the inclusion of the electric guitar solos, which I've never enjoyed in any type of music.
And yet, these guys work miracles crossing oceans and bridging Catalan and Caribbean music genres. They get jazzy at times, funky at other times, or seriously flamenco, such as on the track, "Despierta". And if you need something on the slower side to catch your breath, listen to "Mi testimonio," but even that song clips along at a faster pace. Well, there's no stopping your feet from dancing, and if dancing isn't your thing, then the songs on this CD would be wasted.
Patricia Herlevi hosted the healing music blog The Whole Music Experience. She enjoys Latin music from around the world, especially traditional music. When she's not writing about music, she teaches music appreciation courses. And she writes novels too.
Buy the album:
Author:
PatriciaHerlevi
Patricia Herlevi is a former music journalist turned music researcher. She is especially interested in raising music consciousness. She is looking for an agent and publisher for her book Whole Music (Soul Food for the Mind Body Spirit). She founded and hosts the blog
The Whole Music Experience and has contributed to World Music Central since 2003.