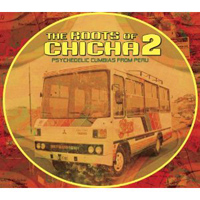 The Roots of Chicha 2, Psychedelic Cumbias From Peru (Barbes Records BR0028, 2010)
It was worth the wait, and now what a joy to have a second volume of Peruvian chicha for worldwide consumption. In case you missed out on the first go-around, chicha (named after a corn-based alcoholic beverage) is a killer combination of cumbia rhythms, Andean and Amazonian roots, rock and roll, rural Cuban sounds and psychedelic overlays.
It was the pop music of choice for Peru's lower classes from its late-'60s inception and claimed a rightful place on the global music scene when compiler/New York City club owner Olivier Conan released the initial volume in 2007.

Since then, previously obscure chicha outfits like Juaneco y Su Combo and Los Destellos have had the subversive brilliance of their work embraced by newfound listeners far beyond Peru's borders.
This follow-up set has a noticeably broader sweep, covering the period from 1968 to 1981 when chicha music was moving from its countryside origins to become more urbanized. It did so without losing the spunk or attitude that made the societal elite scoff at it, retaining the surf-rock guitars, tart organs and synthesizers, hard-shuffling percussion rhythms and possessed vocals that have made many of us into chicha devotees.
The 16 tracks here joyously fly off the handle, from the insane-guitar jazz/rock jam of Manzanita y su Conjunto's "El Hueleguiso" to unearthed rhythmic treasures by Compay Quinto, Grupo Celeste, Los Shapis (who were almost militantly Andean) and many others.
No rehash of the first volume, this second one mainly showcases bands not included on the earlier disc. But like the 2007 release, there are extensive liner notes that go a long way toward unfolding the chicha legacy (including its ties to cumbia and even classical music).
Want more deliriously infectious tunes for the chicha lover in you to feast upon? Dig in.
Buy the album:
Author:
Tom Orr
Tom Orr is a California-based writer whose talent and mental stability are of an equally questionable nature. His hobbies include ignoring trends, striking dramatic poses in front of his ever-tolerant wife and watching helplessly as his kids surpass him in all desirable traits.