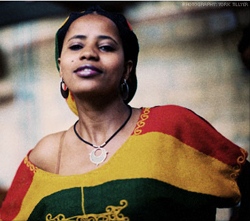 Dub Colossus will perform live in London on Wednesday, 10 November 2010, for the only UK show of 2010. In 2006 Nick 'Dubulah' Page, British producer, multi-instrumentalist (guitars, percussion, fx, bass, harmonica, organ), and founding member of Transglobal Underground and Syriana, first traveled to Ethiopia's capital Addis Ababa. His aim was to collaborate with musicians and explore traditional Azmari styles, 60s Ethiopian pop, Ethiojazz and 70s Jamaican Dub Reggae.
Nick Page came across some amazingly talented artists – female vocalists Tsedenia Gebremarkos and Sintayehu 'Mimi' Zenebe, Ethiojazz pianist Samuel Yirga, tenor sax player Feleke Hailu and Teremage Woretaw on messenqo (one-string fiddle) and vocals. Dub Colossus was born, and soon their critically acclaimed debut album 'A Town Called Addis,' as well as the subsequent 'Return to Addis' EP were released, and amazing live shows followed.

In March 2011 Dub Colossus will release a new album, 'Addis Through The Looking Glass', to be preceded by the 'Rockers Meet Addis Uptown' EP, which features a cover version of the Jamaican reggae classic "Uptown Top Ranking," originally by Althea & Donna.
Until then, November 10th at the Bloomsbury Ballroom will be their only UK date this year.
The six members of Dub Colossus will be joined on stage by drummer Nick Van Gelder (ex Jamiroquai, Brand New Heavies), bass player Dr Das (ex Asian Dub Foundation), vocalist PJ Higgins (Natacha Atlas, Almamegretta, Kenneth Bager), conga player Ramjac, as well as the wonderful Horns of Negus, who recently worked with Dr John, Dizzee Rascal, The Streets, consisting of Ben Somers (tenor and baritone sax), Robert Dowell (trombone) and Jonathan Radford (trumpet).
This mighty 12-piece live band will transport you to the sultry clubs and pounding dancehalls of Addis Ababa with their intriguing and exuberant mix of traditional Ethiopian sounds, sturdy reggae rhythms and a modern dub twist, simultaneously familiar yet fresh, with echoes of such diverse acts as The Abyssinians, Sun Ra, Tlahoun Gesese, Pablo Gadd, Hirut Beqele, Dick Dale and King Tubby.
Wednesday, 10 November 2010, 8pm
Bloomsbury Ballroom, Victoria House, 37-63 Bloomsbury Square, Holborn, London WC1B 4DA, http://bloomsburyballroom.co.uk, nearest tube: Holborn
Tickets: £16 (on door), or in advance from www.ticketweb.co.uk | 08444 771 000 and ticketline.co.uk | 0844 888 9991
Author:
World Music Central News Department
World music news from the editors at World Music Central