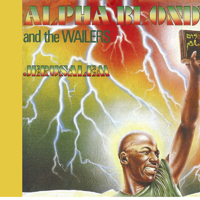 Ivorian reggae artist Alpha Blondy has teamed up with VP Records to re-release seven (7) of his albums in the next coming months. Known as the 'Bob Marley' of the Ivory Coast, Blondy helped create the template for world music in the 1980's by blending contemporary African perspectives with Jamaican reggae into a pop-reggae sound, thereby creating a succession of hit albums that remain classics today.
VP Records celebrates what is regarded as Alpha Blondy's best work in his prolific career by undertaking this selected redistribution of his vast 17-album catalog. The albums have been out of the marketplace for several years but due to the high demand for these historical records, VP Records will again make them available to fans. The seven albums are Cocody Rock, Jerusalem and Apartheid Is Nazism releasing in October 2010, Masada and The Prophets dropping in December 2010, and Jah Glory and Revolution hitting shelves in January 2011.

Cocody Rock was first released in 1984 and set the stage for international stardom for the eclectic musician. The strong hooks of the sing-song title track established Blondy as a multi-lingual pop talent, with musicality and wit to spare.
Jerusalem debuted in 1986 and features the original Wailers Band (Bob Marley's band) throughout the album. In keeping with its theme of the unification of Islamic, Jewish and Christian people through music, Blondy sings in English, French, Hebrew and his native language, Diula.
Apartheid Is Nazism was originally released in 1985 and embraced the notion of 'world music' by addressing world issues, using the platform of pop music to deliver social messages to dance floors and radio audiences across the globe.
Alpha Blondy is thus credited with paving the way for reggae music in the international marketplace and his albums are considered classics in the genre. The re-releases of these albums will now relaunch Blondy in North America – a journey that will culminate with a new album and performance tour in 2011.
Buy the reissues:
Cocody Rock, Jerusalem and Apartheid Is Nazism
Author:
World Music Central News Department
World music news from the editors at World Music Central