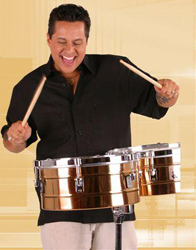 Brooklyn Center for the Performing Arts at Brooklyn College continues its 2010-2011 World Stages series with an evening of Latin Jazz by the Tito Puente Jr. Orchestra on Saturday, November 6, 2010 at 8pm.
Tito Puente Jr. is the son of the late, legendary Latin music percussionist, composer and arranger Tito Puente, whose career as "El Rey" – the King – spanned half a century, seven Grammy Awards, 158 albums and thousands of performances. And if Tito Puente Sr. was the King of Mambo, his son has most certainly been passed the crown.

Although Tito Puente Jr. asserts he is more like the court jester than the prince, the younger Puente is determined to nurture the musical legacy left by his father. Tito Jr. inherited his father's talent, passion, and energy, and Latin Jazz fans lured to a venue by the father are returning to see the son – and to once again participate in the high voltage celebration that takes place on stage.
Tito Puente Jr. seamlessly blends his father's music and style with contemporary Latin music and his own work, including modern rhythms and structures into his performance that bring a crowd to their feet just like his father did.
His 2004 album, En Los Pasos De Mi Padre (In My Father's Shoes), features classic Puente titles such as "El Cayuco" and "Ran Kan Kan" and was spun into a BET Jazz television special of the same name.
Tito Puente Jr. appeared in a tribute to his father's music on NBC titled "The Apollo at 70: A Hot Night in Harlem." Symphony appearances include Dallas, San Antonio, Colorado, South Bend, and upcoming performances with the Palm Desert Symphony and the National Symphony Orchestra conducted by Marvin Hamlisch.
Released earlier this year, Tito, Jr.'s new album, Got Mambo?, is a mixture of the old and the new as he takes a musical departure into some powerful new music he can truly call his own. Guest artists like Bobby Cruz and Hansel & Raul help make this a coming of age project for Tito, Jr. The album has received praise from Tropical and Latin Jazz critics alike.
In the spirit of giving back, Tito, Jr. has participated in two USO Tours during the past 18 months, visiting and performing for troops in Japan, Korea, Spain, and Italy. His appearances at fundraising events for causes including the Jerry Lewis MD Telethon and Toys for Tots help generate thousands of dollars annually.
Tito Puente Jr. reveres the magnificent, lasting impact his father had on Latin music. "People who don't know anything about Latin music know my father and people always smile when they say my father's name," he confides. "That is a very special gift I have been given."
Tito Puente Jr. Orchestra at Brooklyn Center for the Performing Arts
Walt Whitman Theatre at Brooklyn College
2900 Campus Road, Brooklyn
(2 train to Brooklyn College/Flatbush Avenue)
Saturday, November 6, 2010 at 8pm
Tickets: $37 ($40 at door)
Online orders: BrooklynCenterOnline.org
Box Office: (718) 951-4500, Tuesday – Saturday, 1pm – 6pm
Author:
World Music Central News Department
World music news from the editors at World Music Central