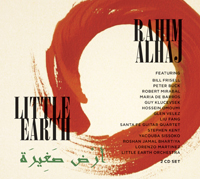 Rahim Alhaj
Little Earth [2-CDs] (UR Music, 2010)
Miraculous is one of a dozen adjectives that describe Iraqi oud player/composer Rahim Alhaj's "Little Earth". I say miraculous because musicians from mostly western musical traditions join the exiled composer on such instruments as accordion, guitar, Native American flute, and orchestral arrangements performing microtonal compositions with exotic rhythms foreign to most western listeners' ears. And as the title of the recording suggests, the coming together of musicians from South America, the American southwest (Robert Mirabel), US, China, Cape Verde, Iran, Brazil, and Iraq certainly portrays a small world after all, (quoting a song from my past).

On the track, "Missing You/Mae Querida," Cape Verdean Maria de Barros marries a mourna (Cape Verdean lament) to Alhaj's maqam (Arabic mode/structure), and in contrast to this composition about loss, the guitar-oud duo ("Morning In Hyattsville"), with jazz musician Bill Frisell takes on the playful demeanor of a mockingbird. Equally spunky, include "Fly Away" which features the virtuoso guitars of Santa Fe Guitar Quartet married to Alhaj's oud and sweet "Athens to Baghdad" that includes the guitar work of R.E.M.'s Peter Buck.
Serious global classical fusions take flight on "Little Earth" too, including compositions performed by pipa player (Chinese lute) Liu Fang, Rocio, featuring Roshan Jamal Bhartiya on sitar, and "The Other Time" featuring Yacouba Sissoko on the west African harp, kora. Most of the songs either have melancholic and fragile qualities or act as flights of fancy. I chose not to listen to "Qaasim" featuring didjeridu player Stephen Kent, not because it would lack beauty, but the gravity of the subject matter (death, lament, war), doesn't appeal to my current stress level.
Brilliant musical performances, heartfelt moments, and a feeling of solidarity grace "Little Earth". Rahim Alhaj is a man with a peaceful mission through the sharing of music. But more than that, his virtuosic performances, and gorgeous compositions, not to mention his openness to include musicians from other disciplines in the studio with him, provide some of the most moving music I have heard in a long while. Alhaj composes and performs from the depths of his soul and intense life experiences. His story of exile and rebuilding a music community in New Mexico alone provide a compelling memoir. And his music speaks for itself—miraculous, yes. Could this lead to peace between all nations and ethnic groups? I hope so.
Patricia Herlevi hosts the Whole Music Experience blog, researches the healing power of music, teaches music appreciation courses and contributes to World Music Central. She is especially fond of cultural exchange projects and adores Mozart.
Buy the album:
Author:
PatriciaHerlevi
Patricia Herlevi is a former music journalist turned music researcher. She is especially interested in raising music consciousness. She is looking for an agent and publisher for her book Whole Music (Soul Food for the Mind Body Spirit). She founded and hosts the blog
The Whole Music Experience and has contributed to World Music Central since 2003.