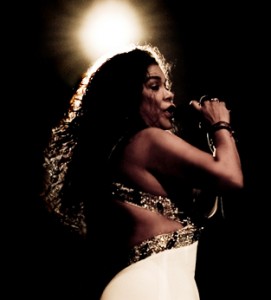 Afro-Peruvian singer Eva Ayllon will perform Friday, October 8, 2010 at 8:00 PM at Town Hall in New York City. The legendary Eva Ayllon, a superstar in Peru, is an icon to millions of fans around the world. The foremost exponent of the vibrant Peruvian musica criolla – a soul-stirring blend of African, Spanish and indigenous traditions, she has emerged as the top singer of Afro-Peruvian landos and festejos.
The Latin Grammy nominee, who just received her fourth nomination for her most recent album, Canta a Chabuca Granda, has recorded over 20 albums, including 4 platinum and 10 gold records. In her 40th Anniversary Concert Celebration, she performs songs from her extensive repertoire backed by a 12-piece ensemble from Peru and the US.

Eva Ayllon, called the "Queen of Afro-Peruvian Song," is regarded as the most important interpreter of Peruvian music. Born in 1956, she was initiated into the art of singing by her maternal grandmother at the age of three. Within a few years, she was singing at school, youth competitions and later on television and radio. In the early '70s she began to appear in many of the local peñas (nightclubs), and began to define herself as one of the leading interpreters of Peru's musica criolla.
From 1973 to 1975 she sang as the lead voice in the poplar trio Lost Kipus, eventually leaving the group to pursue a solo career. By 1979, she began touring internationally, with appearances in Europe, the US, Canada and Japan. In 1989 she sang with Alex Acuna's Peruvian jazz band Los Hijos del Sol, sealing her status as a Peruvian national star. In the past decade she recorded two Grammy nominated CDs for Times Square Records: Eva! Leyenda Peruana (Eva! Peruvian Legend), and Kimba Fa.
Her most recent CD, Canta a Chabuca Granda, was just nominated for a Latin Grammy in the Best Folk Album category. In 2008, she sold out Carnegie Hall and became the first Peruvian artist to perform there since the late Yma Sumac.
Town Hall, 123 West 43rd Street, New York City.
$35, $45, $55; students $20, Ticketmaster (212) 307-4100
Information/tickets: (212) 545-7536
Author:
World Music Central News Department
World music news from the editors at World Music Central