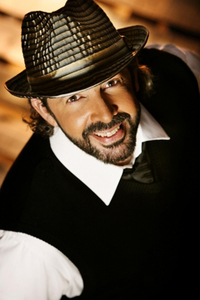 The Hispanic Heritage Awards 2010 ceremony will take place Wednesday, September 29, 2010; 8:00-10:00PM at at The Kennedy Center in Washington, DC. Honorees in 2010 are Dominican musician Juan Luis Guerra, Arts; Alejandro Sanz, Vision; Mario Kreutzberger 'Don Francisco', Legend; Monika Mantilla, Business; Cong. Luis Gutierrez (D-IL), Leadership; Jaime Escalante (Posthumous), Math & Science; Cuauhtémoc Blanco, Sports; and presenting America Ferrera, 2011 Inspira Award Recipient.The 24th Annual Hispanic Heritage Awards.
The Hispanic Heritage Awards were established in 1987 by the White House to commemorate the creation of Hispanic Heritage Month. Since then, The Hispanic Heritage Foundation (HHF), through the Hispanic Heritage Awards, has honored Latino leaders who have made a positive impact in the United States in various fields and served as role models.

Juan Luis Guerra recordings available: A son de Guerra, Bachata Rosa, La Llave De Mi Corazón, Ni Es Lo Mismo Ni Es Igual, Para Ti, Ojalá Que Llueva Café, Grandes Exitos de Juan Luis Guerra y 4.40
The Hispanic Heritage Awards are considered the highest honor for Latinos by Latinos cultural superstars who will convene and stand alongside physicians, educators, public officials, community and business leaders, and even young leaders, in celebration of their achievements.
Musical performances by Luis Enrique, Camila, Belinda and Jencarlos Canela.
The Hispanic Heritage Foundation is a national nonprofit organization, which inspires, identifies, prepares and positions Hispanic leaders for classroom, community and workforce.
Eisenhower Theatre: Located at 2700 F St. NW Washington, DC 20566
More information at:
Hispanic Heritage Foundation and Hispanic Heritage Awards.
Author:
World Music Central News Department
World music news from the editors at World Music Central