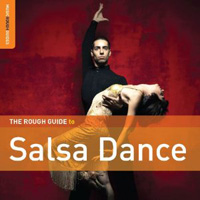 The Rough Guide to Salsa Dance (World Music Network RGNET1239CD, 2010)
The Rough Guide to Salsa Divas (World Music Network RGNET1228CD, 2010)
World Music Network's Rough Guide series is so extensive that there's already been a Salsa Dance entry in it. No matter. The second go-around provides a fresh dose of dancefloor heat via blistering tracks from some of the hardest salseros, including Wayne Gorbea's Salsa Picante, Joe Arroyo (love that uniquely hot Colombian-style salsa), Bio Ritmo, Willy Torres (with both the NYC Salsa Project and 3D Ritmo De Vida) and a heap of others, each bringing something a bit different while keeping it cooking.

A pair of concluding digressions- "Miedo Al Cha Cha Cha" by Latin Giants of Jazz and Omara Portuondo's charanga-styled "El Madrugador" -are links to salsa rather than actual salsa while still holding to a high standard of listening and dancing pleasure. On the subject of the latter, it turns out this Rough Guide provides additional guidance in the form of a bonus DVD that teaches beginning to intermediate salsa dance moves. The whole package is worth it for the music alone, but that extra step is there for the taking.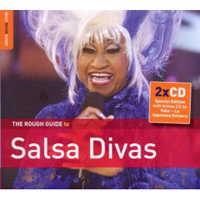 And if you want further encouragement to do a little rug cutting, the added feminine mystique of The Rough Guide to Salsa Divas will do the trick. Celia Cruz naturally kicks things off, and the empowering flamboyance of her "Yo No Quiero Piedras En Mi Camino" makes way for vintage tracks from Graciela, Noraida Y Los More and La Lupe, Yolanda Rivera building on a zesty rumba foundation, Albita's assertive sizzle, deep Cuban roots courtesy of Bobbi Cespedes and much more.
Again, not all of it can rightly be labeled salsa, but salsa lovers will find their passions ignited just the same. It's a great companion piece to the Salsa Dance collection and plenty hot on its own.
The bonus disc here is by Japanese salsera Yoko Mimata, a singer you'd never guess hails from Osaka if all you did was listen to her very authentic salsa sound.
Buy the album:
Author:
Tom Orr
Tom Orr is a California-based writer whose talent and mental stability are of an equally questionable nature. His hobbies include ignoring trends, striking dramatic poses in front of his ever-tolerant wife and watching helplessly as his kids surpass him in all desirable traits.