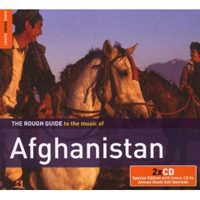 The Rough Guide to the Music of Afghanistan (World Music Network RGNET1237CD, 2010)
Despite the five years in Afghanistan (1996 to 2001) when music was outlawed by the Taliban, the country has seen a musical resurgence that will, with any luck, prompt all religious fanatics to collectively jump off a cliff in the hope of some kind of twisted martyrdom. Actually, there was a thriving and diverse music scene in Afghanistan before the Taliban ruined everything, and in many ways this fine collection reflects that music scene cautiously picking up and carrying on from where it left off.
Here and now aside, the most fun track here, "Leili-Jan," is sung by Ahmad Zahir, who was called the Afghan Elvis and died in a suspicious car crash in 1979. Zahir blazed a pop trail for some of the other artists here, like Setara Hussainzada and Farhad Darya (whose peace-invoking "Salaamalek" truly rocks), to follow.

As peppy as the contemporary-sounding tracks are, it's the stuff leaning toward the traditional that really grabs. Such includes rubab (Afghan lute) virtuosos Ghulam Hussain, Ustad Rahim Khushnawaz and Homayun Sakhi, exiled female singers Mahwash and Naghma, Mehri Maftun from the remote Pamir mountain region and Mashinai's mastery on the bowed sarinda. Some of these pieces may put you in mind of neighboring music from Pakistan or India, with tribal distinctions naturally coming into play along with influences both religious (the non-fundamentalist kind) and secular.
A heartening and often hypnotic album from start to finish. As with all recent Rough Guides, there's a bonus disc, in this case a splendid sampling of the Ahmad Sham Sufi Qawwali Group, laying it down in the style made famous by Pakistan's Nusrat Fateh Ali Khan.
Buy the album:
Author:
Tom Orr
Tom Orr is a California-based writer whose talent and mental stability are of an equally questionable nature. His hobbies include ignoring trends, striking dramatic poses in front of his ever-tolerant wife and watching helplessly as his kids surpass him in all desirable traits.