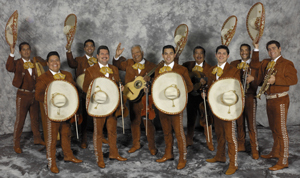 The internationally renowned ensemble celebrates its 50th anniversary in conjunction with Hispanic Heritage Month and Mexico's bicentennial with Viva Mexico! at UCLA Live's Royce Hall October 2. Led by acclaimed Vihuela player Natividad "Nati" Cano, Mariachi Los Camperos de Nati Cano is a driving force of mariachi tradition in the United States of America.
Joined by Mexican Folk singer Angeles Ochoa and Grammy-winning vocalist Perla Batalla, the evening will feature musical storytelling that memorializes the history of Mexico via favorite mariachi tunes and inspiring instrumentals delivered with signature Los Camperos flair.
Born into a family of mariachi musicians in rural Ahuisculco, Jalisco, Nati Cano's artistry and enduring 50-year career as founder and leader Mariachi Los Camperos has shaped the history of mariachi music. Under his direction, the group was one of four mariachi ensembles to work with Linda Ronstadt on her Spanish-language album Canciones de mi Padre and toured extensively with the pop artist.
Angeles Ochoa is one of the world's best and most beloved interpreters of Mexican folk songs, known for her charismatic stage presence and tremendous vocal range. She has toured extensively worldwide and across the United States for nearly 30 years, recording seven highly praised albums and has been named the "Best Singer of Mexican Folk Music" three times in her career.
Perla Batalla, onetime backup singer for Leonard Cohen, is celebrated for her ability to mold the rhythmic and melodic forms of traditional Spanish-language classics to create a stunning cross-pollination of trend and tradition. Her acclaimed albums Mestiza, Heaven and Earth and Discoteca Batalla reflect her rich bicultural personal and musical heritage.
Author:
World Music Central News Department
World music news from the editors at World Music Central