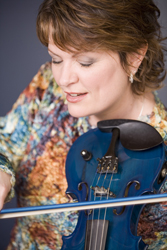 Groundbreaking Irish-American fiddler Eileen Ivers and her band Immigrant Soul will bring their energy and potent performance to stages across the United States this autumn, from Los Angeles' Walt Disney Hall to Maine 's Portland Symphony.
The young Ivers never expected to become a professional musician with numerous Al l-Ireland Fiddle Championships and Grammy-awarded projects under her belt. She's a mathematician by education. Yet her unintentional career has taken her from co-founding Cherish the Ladies and touring with The Chieftains, to guest starring with acclaimed symphonies, collaborating with celebrated jazz and pop artists and her most recent televised performances with Sting.

Ivers expertise and artistic diversity led her to forge a new, front-and-center role for the fiddle in Celtic performance, in particular, in creating the musical star role of Riverdance.
Her own work has led her to dig deep into Irish and Celtic sounds, tracing connections between continents and scattered Celtic communities, sharing how these connections reverberate in American roots music, delving into jazz sensibilities and Grappelli-esque improvisations, and incorporating her trademark effects with her eye-catching electric violin.
Her fellow members of Immigrant Soul enrich Ivers' open-minded, open-bordered innovation and share her passion for performance. Lead singer, percussionist, and former Blues Brother Tommy McDonnell is equally at home with the congas and the bodhrán (Irish frame drum), while bassist Leo Traversa, when not teaching at New York's Columbia University, can be found backing Afro-Cuban and Brazilian masters.
Acoustic guitarist Greg Anderson has worked with folk legend Pete Seeger, as well as classical icon Itzhak Perlman. All-Ireland accordion champ Buddy Connolly has worked with American roots music greats Tim O'Brien and Kathy Mattea.
Buy Eileen Ivers' albums:
In North America: Eileen Ivers & Immigrant Soul, Wild Blue, So Far: The
Eileen Ivers Collection, Eileen Ivers, An Nollaig: An Irish Christmas,
Crossing the Bridge, Fresh Takes
In Europe: Eileen Ivers & Immigrant Soul, Wild Blue, So Far: The Eileen Ivers Collection, Eileen Ivers, An Nollaig: An Irish Christmas, Crossing the Bridge, Fresh Takes
U.S. Fall Tour details:
09/25/2010, Sat
Philadelphia, PA
Annenburg Center, 3680 Walnut Street
Tickets: $45/$35/$30/$25/$20
Show: 8:00 pm
Ph: 215-898-3900
09/29/2010, Wed
Harrisburg, PA
Whitaker Center, 222 Market Street
Tickets: $35/$29.50
Show: 7:30 pm
Ph: 717-214-2787
10/01/2010, Fri
Oneonta, NY
Oneonta State College Hunt Union Ballroom, 108 Ravine Parkway
Tickets: $25
Show: 8:00 pm
Ph: 607-433-7252
10/09/2010, Sat
Portland, ME
Merrill Auditorium, 20 Myrtle Street
Tickets: $71/$57/$47/$39/$26
Show: 7:30 pm
Ph: 207-842-0800
10/10/2010, Sun
Portland, ME
Merrill Auditorium, 20 Myrtle Street
Tickets: $71/$57/$47/$39/$26
Show: 2:30 pm
Ph: 207-842-0800
11/03/2010, Wed
Saratoga, CA
Montalvo Arts Center, 15400 Montalvo Rd.
Tickets: $42/$37
Show: 7:30 pm
Ph: 408-961-5800
11/04/2010, Thu
Berkeley, CA
Freight & Salvage, 2020 Addison Street
Tickets: $23.50/$22.50
Doors Open: 7:00 pm, Show: 8:00 pm
Ph: 510-644-2020
11/05/2010, Fri
Pasadena, CA
Cal Tech Beckman Auditorium, 1200 East California Boulevard
Tickets: $29/$24/$19/$10
Show: 8:00 pm
Ph:626-395-4652
Christmas Tour:
12/02, Thu Huntsville, AL Von Braun Center
12/03, Fri Birmingham, AL BJCC Concert Hall * with Alabama Symphony
12/04, Sat Helena, AR PhilipsCommunity College Lily Peter Auditorium
12/07, Tue Easton, MD Avalon Theatre
12/08, Wed Bay Shore, NY Boulton Center for the Performing Arts
12/09, Thu Ridgefield, CT Ridgefield Playhouse
12/10, Fri Woodstock, VT Town Hall Theater
12/11, Sat New Brunswick, NJ State Theatre
12/12, Sun Mahwah, NJ Berrie Centerfor the Performing ArtsRamapo College
12/15, Wed Wausau, WI Grand Theater on Artsblock
12/17, Fri Wickenburg, AZ Del E Webb Center for the Performing Arts
12/18, Sat Wickenburg, AZ Del E Webb Center for the Performing Arts
12/19, Sun Longview, WA Columbia Theater for the Performing Arts
12/21, Tue Steamboat Springs, CO Strings Music Pavilion
12/22, Wed Beaver Creek, CO Vilar Performing Arts Center
12/23, Thu Los Angeles, CA Walt Disney Concert Hall
Author:
World Music Central News Department
World music news from the editors at World Music Central