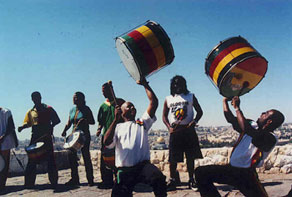 World music festival ¡Globalquerque! will be held September 24 & 25 of 2010 at the National Hispanic Cultural Center in Albuquerque, New Mexico (USA). The organizers report some changes in the program. Inti-Illimani (Chile) lost their airline sponsor and had to cancel their US tour. And Pietra Montecorvina's representatives just couldn't quite figure out all the details for traveling to the United States so her performance was canceled.
Closing out Saturday night will now be Olodum, a large, socially conscious, percussion driven street band from Brazil. They helped pioneer the samba reggae sound that has become a staple of Carnival and their propulsive rhythms were heard the world over when Paul Simon tapped them to lay down the backbeat for his hit song "The Obvious Child" on The Rhythm of the Saints in 1990. Olodum will be about 20 people on stage and a total blowout finale for the festival.

On the other end of the scale entirely, ¡Globalquerque! have also added Skáidi to the mix. This Norwegian duo will be in the Fountain Courtyard on Saturday, combining traditional Sami yoik singing with jazz-influenced improvisation on the upright bass.
Rounding out the American Indian programming, ¡Globalquerque! added the multigenerational Cellicion Zuni Dancers, who have taken the music and dances of Zuni around the globe.
On the New Mexican Hispanic music front, ¡Globalquerque! will present festival openers Mariachi Mystery Tour, the 11-piece ensemble that are an unexpected yet totally winning cultural collision (¡Si, Si, Si! ¡Rodemos!) and the traditional Northern New Mexico sounds of Los Martinez.
¡Globalquerque! 2010 Line Up!
Rahim AlHaj & Little Earth Orchestra (Iraq/USA) with special guests Souhail Kaspar (Syria), Hossein Omoumi (Iran), Stephen Kent (Australia), Roshan Jamal Bhartiya (India)
Khaïra Arby (Mali)
Susana Baca (Peru)
Cellicion Zuni Dancers (Zuni Pueblo, USA)
Deolinda (Portugal)
Flatlanders with Tom Russell (Texas, USA)
Kenge Kenge (Kenya)
Los Martinez
(New Mexico, USA)
Mariachi Mystery Tour (New Mexico, USA)
Emeline Michel (Haiti)
Bill Miller (Mohican Nation, USA)
Non Stop Bhangra (India)
Olodum (Brazil)
Oreka Tx (Spain)
Simon Shaheen (Palestine)
Skáida (Norway)
Líber Terán (Mexico)
For information www.globalquerque.com
Author:
World Music Central News Department
World music news from the editors at World Music Central