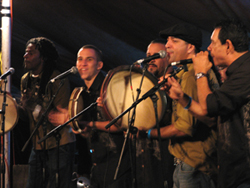 The Shakori Hills GrassRoots Festival of Music & Dance will hold its annual fall festival from Thursday, October 7 to Sunday, October 10, 2010. The festival will feature more than 50 bands and performers on two big outdoor stages, a large Dance Tent, and an intimate Cabaret Tent.
Located on 72 beautiful farmland acres at 1439 Henderson Tanyard Road in Silk Hope, North Carolina, just down the road from Chapel Hill, Raleigh, Durham, Burlington, and Greensboro. The festival also features local crafts, delicious food, various children's activities, environmental sustainability workshops, and much more in a family-friendly environment.
Featured acts include: The Marshall Tucker Band, Carolina Chocolate Drops, Donna the Buffalo, Peter Rowan Bluegrass Band, Sarah Jarosz, Chatham County Line, Missy Raine & The New Hip, Preston Frank, Toubab Krewe, Plena Libre, Samantha Crain, Locos Por Juana, The Old Ceremony, Jill Andrews, & Katharine Whalen & The Fascinators
Other local favorites include: Paperhand Puppet Intervention, Mandolin Orange, Big Fat Gap, Amelia's Mechanics, Greg Humphreys, Lizzy Ross Band, Justin Robinson & The Mary Annettes, Jack Maverick & His Wild Rebels, The Jackets, The Amateurs, Penny Prophets, Ryan Gustafson, Mosadi Music, Embarrassing Fruits, Corn & The Colonels, Mary Johnson Rockers, Milagro Saints, Colors of Flying, Old 86, Big Range, Different Drum, Howie DeWitt, Cole Park, Nyssa Cave, & Cane Creek Cloggers
Diali Cissokho, Audra Mae, Frontier Ruckus, Thousands of One, Snake Oil Medicine Show, Woody Pines, Unknown Tongues, The Honey Dewdrops, Songs of Water, The Smart Brothers, Dark Water Rising, Sarah Carrere, Hee Haw Nightmare, Big Al Hall & Marching Rams, The Green Deeps, Noot d'Noot, The Double E, Red June, Brian McGee, Blue Sky Mission Club, Baron von Rumblebuss, Louise Kessel, HoopDrum & more.
Full festival schedule available at www.shakorihills.org/performance-schedule
Festival tickets are on sale now and available by phone and at www.shakorihills.org/tickets-info
Four day passes are $90 in advance and $100 at the gate. Kids 12 and under are FREE! Day passes are $25 (Thurs), $35 (Fri), $45 (Sat), and $25 (Sun). Youth prices (13-15) are $12, $17, $20, and $12. Tent camping is $10 per tent and vehicle camping is $50 in advance and $60 at the gate.
Author:
World Music Central News Department
World music news from the editors at World Music Central