The Government of Montserrat announced the death of 'The Soca King of the World,'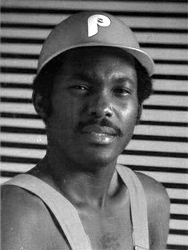 Alphonsus 'The Mighty Arrow' Cassell died at his residence in Montserrat on Wednesday September 15th of 2010 at the age of 60.
The island's national Radio Station ZJB was overwhelmed with calls of grief and offers of condolences to Arrow's family in an atmosphere of deep mourning across the island.
Montserrat's Chief Minister, Reuben T. Meade said: "Arrow's passing is a national loss of a Cultural Institution and a National Icon who was generous, kind and the embodiment of an enduring and unmoving love for humanity. Arrow was an entertainer who shared with his people and the world life's lessons of securing triumph over challenges and opportunity over loss. He will live on in the hearts of all Montserratians."
Arrow was diagnosed with cerebral cancer in early 2009. He was airlifted to the neighboring island of Antigua last week for treatment. His family thanked the medical teams in Montserrat, Miami and Antigua, friends and family who gave their support during the period of his illness.
Arrow or "Phonzie", as he was referred to by close friends and family, was responsible for taking the Soca genre to the international music scene with his 1982 smash hit, "Hot, Hot, Hot."
Having won the local Montserrat Calypso Competition on three occasions, the talents of the proud son of Montserrat were spotted by former Beatles manager, George Martin, who worked with Arrow to turn his focus to his recording and touring career.
Arrow recorded no less than 22 studio albums with other notable hits including Long Time, Dancing Mood, O'La Soca and Groove Master. He has performed at concerts, music festivals and gala events across the globe.
"His death is a great loss to the family, his native land of Montserrat and the music world," said his brother, Justin "Hero" Cassell, another talented vocalist and songwriter, who worked with Arrow during his peak years.
Arrow is survived by his four children, Tshishimbi, Alexander, Sawandi and Arrdena and two grandchildren Camryn and Shyane.
Author:
World Music Central News Department
World music news from the editors at World Music Central