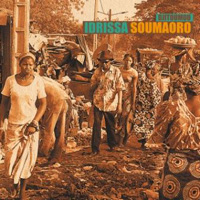 Gondwana Sound's album of the week, Djitoumou, comes from Idrissa Soumaoro, every one's side man but a fantastic songwriter and musician in his own right. Djitoumou is amongst Jill Turner's favorite albums of the year and remarkably only his second in a career spanning 40 odd years.
Gondwana Sound also reports that Hassan Erraji has announced some UK tour dates. The internationally acclaimed blind veteran master-musician from Marrakech Hassan Erraji and his hot new band of young jazzy MoRoccan Rollers take to the road to launch a set of sensational new pieces featured on his long-awaited landmark September 2010 album release, Awal Mara.gondwanasound.co.uk/node/1225

London's Barbican hosts the second Transcender weekend which takes a wide look at transcendental, devotional, spiritual and sacred music – music designed to transport the listener, to conjure trances or summon states of ecstasy, taking the audience closer to their god. There's a list of concerts on the website and we're looking forward to seeing Faiz Ali Faiz with Titi Robin plus on Sunday Afghan musician Homayun Sakhi will be playing. gondwanasound.co.uk/node/1220
For those in Sheffield the very wonderful Mim Suleiman is inviting everyone to Penelope's for an evening of Zanzibari culture, music, film and dance with guests Juldeh Camara and DJ Andy Healey which alas clashes with the equally very wonderful Hut People who play the Rivelin Folk Club on 15th September. gondwanasound.co.uk/node/1214 & http://www.gondwanasound.co.uk/node/1207
Global Music Exchange are asking for help to develop the Under the Volcano Festival which took place in Limbe, a small friendly town under Mount Cameroon, in a stone built amphitheatre in a botanic garden by the sea. gondwanasound.co.uk/node/1210
Last week Jill Turner mentioned one of the noteworthy Rough Guide compilations, the Rough Guide to the Music of Afghanistan. After reading the press release and discovering the compiler is Simon Broughton editor in chief of Songlines here in the UK, she rang his office. So next week…you can hear Simon talking about his experiences in Afghanistan, some of the tracks on the compilation and the artists making the music. In the meantime you can read the full press release here. gondwanasound.co.uk/node/1213
Kissmet have been confirmed for next year's Rainforest World Music festival. They also turned in a high octane performance at Off the Tracks festival at the weekend. The speaker stacks were still in one piece at the end. You can see the photographs here.
Author:
World Music Central News Department
World music news from the editors at World Music Central