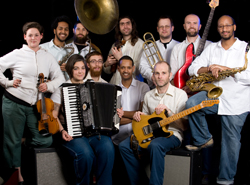 Ethiopian-inspired Debo Band will launch its debut tour this September, select U.S. cities, including New York, Philadelphia, Boston, Richmond (VA), Chicago, and Milwaukee. The expanded 14-piece project, with guests from Ethiopia. Highlights include the Chicago World Music Festival and NYC's Joe's Pub.
Made popular through the renowned Ethiopiques series, the musical inspiration behind Debo Band is an unlikely confluence of Ethiopian pentatonic scales and vocal styles, American soul and funk, and the instrumentation of Eastern European brass bands – accordion, violins, horns, and drums. Though devoted to 1970s grooves, Debo Band has also found inspiration in the contemporary sounds of Ethiopian pop music while developing their own, original compositions.

These days it's not uncommon for a group of Americans to be drawn to music from the other side of the world. But what makes Debo Band unique is the extent to which their art is informed by cross-cultural exchange and collaboration, whether by tapping into Boston's Ethiopian-American community or traveling to East Africa for month long jaunts filled with all night music-making, dancing, and revelry in the company of groups like Ethio Color of Ethiopia and Culture Musical Club of Zanzibar.
Still, what's more remarkable is that Debo's February 2010 journey to Africa was not their first – it was their second time in Ethiopia and Tanzania in nine months, a "twice in a lifetime" opportunity fulfilling the group's desire for the tremendous musical inspiration that can only come by traveling to the source. In May 2009, the group made their first trip to Africa after an invitation from Francis Falceto, editor of the Ethiopiques series, to perform at the 8th Ethiopian Music Festival.
While most African "tribute" bands focus on the legends of yesteryear, Debo's Ethiopia-based collaborators Fendika are young torchbearers in their twenties and early thirties. With a powerful female vocalist, an exciting male and female dance duo, and a propulsive traditional goat-skin drummer, Fendika adds the vibrancy of Addis Ababa's nightlife to Debo Band's distinctive take on Ethiopian dance music.
Fendika group leader Melaku Belay has established himself as the top dancer in Ethiopia with more than 40 international concerts in the last three years, including performances at Chicago's Millennium Park and New York City's Lincoln Center. One of the most active artists on the Addis Ababa scene today, Melaku is an ardent supporter of Ethiopia's diverse musical traditions and a savvy cultural entrepreneur who manages his own nightclub and is developing his own institute for the arts.
Bringing Fendika to the United States has long been a goal of Danny Mekonnen. "Ever since we first worked with Fendika in Addis, we've wanted to share this collaboration with U.S. audiences. They are incredible folk performers who do what few have seen in this part of the world," said Danny, the group's Ethiopian-American founder. "We also wanted the chance to host them in our country as they did in theirs."
"Debo" means "communal labor" or "collective effort" in Amharic, Ethiopia's national language. The concept of "debo" is evident in the band's work ethic, with each member contributing much to the group's successes at home and abroad. Motivated by an "Africa or bust" determination, band members raised funds through an online Kickstarter campaign, posted tour promo videos on Youtube, set up a hometown residency and wrote grant applications to pay for their trip to Zanzibar's Sauti za Busara music festival.
This September tour is supported by the release of Debo Band's first EP, Flamingoh (Pink Bird Dawn). This live recording documents the brief period around Debo Band's trip to East Africa in Winter 2010, with performances from Sauti za Busara, Club Alize in Addis Ababa, and the Western Front in Cambridge. They also have a documentary, featuring their escapades with Fendika in Ethiopia and Zanzibar, and a full-length live album on the way.
Danny sums up the September tour, "Fendika's arrival marks a new chapter for us. I think our fans are going to get a kick out of the dancing, traditional singing and drumming, and we can't wait till Fendika get here to begin working with them once more."
Debo & Fendika, North American Tour Schedule
09/16/2010, Thu
Somerville, MA
Johnny D's
17 Holland St.
Tickets: $12.00, Show: 7:30 pm
Phone: +1 617-776-2004
09/17/2010, Fri
New York City, NY
Joe's Pub
425 Lafayette Street
Tickets: $15.00 adv/20.00 doors, Show: 9:30 PM
Phone: +1 212-967-7555
09/18/2010, Sat
Richmond, VA Balliceaux
203 North Lombardy Street
Tickets: $12.00 Adv./$15.00 doors, Show: 9:30 pm
Phone: +1 804-355-3008
09/19/2010, Sun
Philadelphia, PA
Crossroads Music
801 South 48th Street
Show: 7:30 pm
Phone: +1 215-729-1028
09/23/2010, Thu
Providence, RI
Burnside Park Music Series
Kennedy Plaza
Show: 5:30 pm
Phone: 401.331.5544
09/25/2010, Sat
Milwaukee, WI
Global Union
Humboldt Park
Show: 4 pm
Phone: 414.382.6151
09/25/2010, Sat
Chicago, IL
Martys – Chicago World Music Festival
3855 N. Lincoln Ave.
Tickets: $15.00, Show: 10 pm
Phone: 773.404.9494
09/26/2010, Sun
Chicago, IL
Navy Pier – Chicago World Music Festival
600 E. Grand Avenue
Show: 3:30 pm
Phone: 312.595.5456
Author:
World Music Central News Department
World music news from the editors at World Music Central