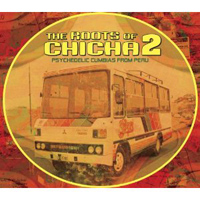 Barbès Records is releasing The Roots of Chicha 2, Psychedelic Cumbias From Peru (1968-1981), which showcases 11 bands and 16 tracks recorded from 1968 to 1981. This is music at once familiar and exotic – rooted in the changing sounds fostered by the worldwide musical revolution that took place in the late 1960's.
The new collection is not a sequel. It's an attempt to rectify some of the biases and inaccuracies of the first volume. Here, the selections focus more on the urban aspect of the music and less on the Amazonian side.

It highlights some lesser-known bands, and broadens its scope to include some of the early Cuban-influenced groups that would play such a crucial role in the elaboration of the chicha sound. And it introduces some of the later bands, such as Los Shapis, who played in the more Andean style that would eventually define chicha.
This collection includes such crucial chicha outfits as Grupo Celeste, which had a huge influence on the emergence of Mexican cumbia; Chacalon, the legendary "bad boy" of chicha; Ranil, the doggedly independent folk hero from Iquito;Manzanita, unheralded yet dazzling; and Los Destellos, whose seminal role in the evolution of chicha is further documented here.
The first volume of The Roots of Chicha, Roots of Chicha: Psychedelic Cumbias From Peru, came out in 2007.
Buy the album:
Author:
World Music Central News Department
World music news from the editors at World Music Central