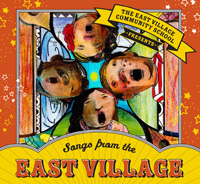 The East Village Community School – Songs from the East Village (Independent release, 2010)
Oran Etkin – Wake up Clarinet! (Motema Music, 2010)
When I was around 7 or 8 years old my mother bought me my first record player, one of those portable players with the handle on top, mine was orange and white. She also bought me my first collection of 45s which featured old American folk and Disney tunes which my sister and I learned with much enthusiasm. My favorite song was "Let's Go Fly a Kite" and I could sing that song all day long. And although our school district was a poor one, it provided music programs from 1-12 grades. I imagine that music even brought the community together and I certainly felt more at peace having music in my childhood years.

While many grade schools especially have lost their music programs due to budget cuts, many schools find a way to incorporate music into their educational programs despite what the economy is doing or not doing. The East Village Community School in the Lower Eastside of New York City brought parents, children and diversity together in creating its musical program.
According to the liner notes of "Songs from the East Village," many of the parents representing a variety of ethnic groups were also musicians and among them is Susan McKeown, (co-producer), a champion of music and language preservation, and now music programs in schools preservation.
And as you can imagine with all of this ethnic diversity the songs that appear on the fundraising CD represent a variety of cultures with songs hailing from Iraq, Tibet, Spain, Puerto Rico, Ireland, the Appalachians and the Deep South (US). The children brought in songs taught to them by their parents and they helped in the production of the CD, lending their enthusiastic voices too. The proceeds from the CD keep this hands-on learning school in operation. Many of the CD listeners will hear traditional songs for the first time or will sing along with the ones they know from their own childhood.
This CD not only raises much needed funds, but would make a lovely gift for children of all stripes and sizes. It proves what a group of children can do to empower themselves and keep a roof over their school, so to speak. A worthy cause, you bet.
Clarinetist Oran Etkin has taken his music to kids. Music not only helps children develop mentally, physically and emotionally, music education teaches children how to appreciate different types of music while preserving various music traditions for future generations. Not to mention that musicians reap rewards from teaching children music appreciation and musical language because they are in essence fostering their future concert goers and record buyers.
"You know, everyone talks about music as a language-universal language," says Ektin (liner notes), "About five years ago, I started wondering what we are doing to make sure that children grow up to be fully fluent and comfortable inside this powerful language that can enable them to express their innermost feelings, emphasize with the experiences of another, and explore distant cultures and ancient eras."
So Ektin brought out the child size xylophones, recorders and percussion instruments and started teaching children how to explore, listen to and play music. According to the liner notes, these children went home excited and told their parents about Dizzy Gillespie and classical music. And anything that keeps children enthusiastic about learning is a good thing.
"Wake up Clarinet!" features a short array of songs that have been jazzed up. Etkin and vocalist Charenee Wade chat in between songs to the child audience. They explore scales on "High Low" as they pretend to walk through the snow. Etkin demonstrates his clarinets range on several songs and we even learn about the connection between King Louis XIV and Louisiana on the song "Eh La Bas." The swinging "Mary Had a Little Lamb" will even get adults dancing.
This recording is perfect for young children (they might get bored over 7 years of age) and for preschool and kindergarten teachers. The CD also provides video footage of a TImbalooloo (Etkin's music education program), concert.
Patricia Herlevi hosts The Whole Music Experience and contributes to World Music Central on a regular basis. She has also penned three novels.
Buy the albums:
Author:
PatriciaHerlevi
Patricia Herlevi is a former music journalist turned music researcher. She is especially interested in raising music consciousness. She is looking for an agent and publisher for her book Whole Music (Soul Food for the Mind Body Spirit). She founded and hosts the blog
The Whole Music Experience and has contributed to World Music Central since 2003.