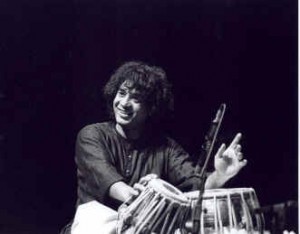 The Chicago Department of Cultural Affairs, in partnership with Incredible India, celebrates the arts and culture of India at India Calling!, a free three-day festival featuring music concerts, arts exhibitions, cooking demonstrations, dance performances, yoga and meditation classes, and a handicrafts village. Events will take place at the Chicago Cultural Center, 78 E. Washington Street, Chicago, over September 21 through 23, 2010.
The events open the Chicago World Music Festival on Tuesday, September 21, at 6:00 pm, with a free concert at Millennium Park's Jay Pritzker Pavilion featuring Zakir Hussain and special guest sitarist Niladri Kumar.
A classical tabla virtuoso of the highest order, Zakir Hussain has established himself as a national treasure in India, as well as in the contemporary world music movement. His playing is marked by uncanny intuition and masterful improvisational dexterity founded while studying under his legendary father, Ustad Alla Rakha, the longtime tabla player for Ravi Shankar.

Zakir Hussain recordings available: Planet Drum, Global Drum Project, Essence of Rhythm, Best of Zakir Hussain, Raga Lalit / Raga Bairagi Bhairav, Golden String Of The Sarod, First LP Record, Mesmerizing Maestros, Live, Vol. 1, Sound scapes-music of the desert, Magical Moments of Rhythm
Following this opening concert, the Chicago Cultural Center will host handicrafts, exhibitions, demonstrations, and classes that celebrate the artisans and cultural offerings found across present day India. Events include:
• A panoramic display of photographs of India by Steve McCurry, world famous photographer whose work has appeared on more than 28 covers for National Geographic magazine. McCurry is best known for his stirring portrait of an Afghani refugee girl and his subsequent 17-year search for her that was documented in a National Geographic television special.
• An exhibition of watercolor paintings of India by Paresh Maity, one of India's most exciting contemporary artists. Famous for his "live painting" while traveling, Maity has painted scenes in London, Italy, China, Egypt, and Mexico. He recently completed a 7 by 800 foot mural – one of the longest in the world – in the new international terminal in Delhi that celebrates the Indian Odyssey. During India Calling!, Maity will paint a new scene of Chicago.
• Twelve handicraft and folk artisans brought to Chicago from India's rural villages will provide demonstrations and handcrafted goods made by the villagers and their families amid a spice market, tea tasting, and travel fair.
• Classes and demonstrations including yoga led by Yogis flown in from India's yoga capital Rishikesh, guided meditation with the Brahma Kumaris, and cooking with ayurveda experts and chefs from India
• Additional concerts featuring Hindustani and Carnatic (South Indian) classical music by noted performers including Aashish Khan, Alam Khan, Swapan Chaudhuri, Ronu Majumdar, Vidwan Mysore Manjunath, Saraswathi Ranganathan, and Lyon Leifer, as well as performances featuring jazz, bhangra, ghazals, devotionals, and chants.
India Calling! is the continuation of a franchise created by Dawn Drew, CEO and Founder of The Moste, Inc. a cultural travel marketing firm and consultant to the Ministry of Tourism Government of India; and its partner, Danny Kapilian Presents, a New York based independent producer of live music and events.
The 2010 India Calling! program is presented by Incredible India and the Chicago Department of Cultural Affairs.
The Chicago Department of Cultural Affairs is dedicated to promoting an ongoing celebration of the arts and supporting the people who create and sustain them.
Author:
World Music Central News Department
World music news from the editors at World Music Central