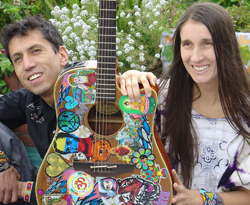 Colombian music icons Aterciopelados have launched the animated video for their immigrant anthem "Bandera" off the GRAMMY-nominated album 'Rio.' The song was originally inspired by the group's frequent troubles with securing visas to perform in Spain. Now as the immigration debate increases in the United States around Arizona's immigration bill SB1070, the track "Bandera" proves more relevant than ever.
Bandera's chorus is "Que quien es usted/Que donde nació/Entonces no puede entrar a esta nación" (simply: "Who are you?/Where were you born?/Therefore you can't enter this country"). The "Bandera" video, directed by Diego Peñuela, follows an immigrant's treacherous journey across the globe, eventually being lit on fire by the torch of the Statue of Liberty.

"My problems with traveling are so small compared to others across the world but I thought I could give all these people a voice," says Aterciopelados member Andrea Echeverri.
Aterciopelados continue to build upon the buzz for their critically-acclaimed release 'Rio.' The group will extend their major festival run this weekend at Bumbershoot in Seattle, this follows recent triumphs at Coachella, Bonnaroo, Outside Lands and the Ottawa Folk Festival.
Since the release of 'Rio,' Aterciopelados have been actively involved in a variety of political activism events across the globe. Last fall, the group was invited to perform at a special "Tribute to Peacekeeping" concert at the United Nations General Assembly Hall in New York City. They joined legendary artists like Harry Belafonte, Roberta Flack and Angelique Kidjo to celebrate the anniversary of the 1945 charter of the United Nations.
As part of their United Nations set, Aterciopelados played their human rights anthem "The Price of Silence," an Amnesty International benefit track which was re-worked from the Aterciopelados hit "Cancion Protesta." "The Price of Silence" was released by Nacional Records to celebrate the 60th Anniversary of Universal Declaration of Human Rights. The song's music video was virtually simulated in the U.N. Assembly Hall and features Aterciopelados with artists like Julieta Venegas, Stephen Marley and Natalie Merchant.
Buy Rio,
Author:
World Music Central News Department
World music news from the editors at World Music Central