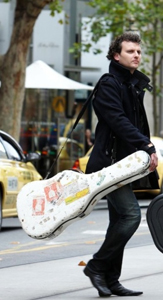 When it comes to music festivals, Adelaide has certainly stolen a march over the rest of Australia. The City of Churches added another string to its already substantial bow in 2007 when it launched the Adelaide International Guitar Festival (AIGF).
While the inaugural event might not have been a huge commercial hit, it certainly was an artistic success, if only for introducing Jeff Lang to Mamadou Diabaté, which led to the formation of Djan Djan. The slide guitar whiz will return for the first biennial festival in late November (25th-28th) for a show with Djan Djan bandmate Bobby Singh and young sitar player Josh Bennett, and a collaboration with Wolfgang Muthspiel, Shane O'Mara, Doug de Vries, Anthony Garcia, Leonard Grigoryan and AIGF's debut Artistic Director, Slava Grigoryan. But Lang is just one of an eclectic range of top-notch stringbenders selected by Grigoryan, who is a guitar maestro in his own right.

The Kazakhstan born Aussie, will no doubt be delighted if his first year in the hot seat yields a partnership of Djan Djan's calibre. "A lot of the shows actually bring people together for the first time, so you never know," he says. The AIGF gig is tailor-made for Australia's most eclectic classical guitarist, who admits he fantasised about being its artistic director. "There was this void in Australia for guitar, and then all of a sudden this incredible festival appeared. I got to know it really well the first two years as a player. I love the whole philosophy and the celebration of the guitar in all its many guises.
From my perspective, it really has to be a celebration of the art of playing guitar in any style. With that in mind, I've been really happy with the range of artists that are going to be involved this year. They're from all corners of the world, and include some great Australian players like Doug de Vries, who's one of the finest musicians down under. He spends months in Brazil every year working with the most significant musicians out there, including Yamandú Costa."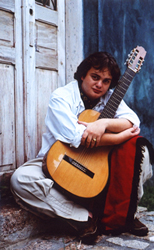 Slava's particularly pleased about snaring 12-string master Yamandú Costa, who wowed audiences at the Melbourne International Jazz Festival in 2007 and 2008. "I missed him live in Melbourne, but I saw him in France and was absolutely gobsmacked. I'd seen heaps of footage of him, and heard his albums, but he's got such a fantastic energy on stage. He's really captivating. He did an usual show in Paris with the Orchestre de Paris, premiering a new South American concerto and after he did no fewer than eight encores."
Costa will also be collaborating with the group Caliente: "They're going to be playing specific pieces that are being arranged for the whole ensemble, Doug de Vries, and Yamandú."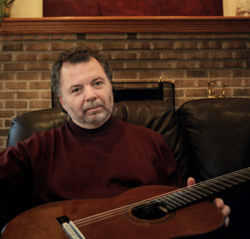 Yamandú Costa might be the ace in Grigoryan's pack, but he has other trump cards up his sleeve, such as Manuel Barrueco. "Barrueco really is the biggest name in the classical guitar world post John Williams. He records with Placido Domingo, but he's also collaborated with guys like Steve Morse and Al Di Meola, so he's always looked outside classical, although as a classical player he's second to none. He's originally from Cuba and plays a lot of Central and South American music, so it's appropriate that he's on the same bill as Yamandú Costa."
At least one show will have a flamenco flavour with Paco de Lucia's brother, Pepe and Oscar Guzman on a double-header with Australia's premier troupe, Arte Kanela – http://www.adelaidefestivalcentre.com.au/guitarfestival/artists/arte-kanela . "Pepe's got such a distinctive voice — he's on all those classic Paco albums," says Grigoryan. "When tossing up various ideas with Oscar, he mentioned they'd worked together and that they'd love to do a duo collaboration. The guys in Arte Kanela have worked with Pepe and know Oscar, so I daresay there's going to be an 'all in' somewhere in that show."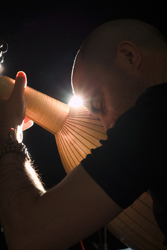 Another show that gets Slava salivating is the one headlined by Tunisian oud maestro Dhafer Youssef and Austrian jazzman Wolfgang Muthspiel. "The first half of the show will be them. In the second half, they'll be joined by Cameroon's Richard Bona, who has been dubbed 'The African Sting'."
Slava says there'll be four specifically classical performers on this year's bill, including Australia's highest ranked female player Karin Schaupp, although he points out that most have got an edge to them in that they're not traditional or standard repertoire at all.
While the introduction of an International Classical Guitar Competition is clearly dear to his heart, he maintains it's overdue. "We were talking about new ways of encouraging young players to be involved. It was one of the ideas that surfaced, to stage a significant competition. Quite a few generations of players have missed out on that kind of experience, so we thought we'd try it out. There was an application process based on an audition and of those applications, sixteen players will be selected for the semi-final round, which will be held at the festival itself. The final will be an open to the public, free event."
Grigoryan also plans some surprise packages. As he says, "the challenge is to make it as broad and appealing to as many people as possible". He cites the pairing of singer Christa Hughes and Ben Fink. "Ben was the original guitarist in The Whitlams — he's a great player. He and Christa will be doing some old school blues from the 20's and 30's, including Bessie Smith."
Over its four days and nights, the AIGF will feature more than 50 national and international artists in 16 performances and three Australian premieres, along with a range of free and low cost workshops, master classes, artist talks and panel discussions for audiences and artists alike.
Yamandú Costa recordings available: Ida E Volta, Mafuá, Yamandu Costa: Ao Vivo, Negro Del Blanco, Tokyo Session
Manuel Barrueco recordings available: Cuba!, Solo Piazzolla – Music by Piazzolla for Guitar, Cantos y Danzas, Virtuoso Guitar Duos, Tango Sensations – Music by Piazzolla & Guastavino
Author:
Tony Hillier
Tony Hillier is based in Cairns in far north Queensland, from where he has been actively involved in all areas of the music industry in Australia for the past 25 years, primarily as a journalist, writing for national publications such as the Weekend Australian and Rhythms magazine (for which he is World Music & Folk correspondent), and performing locally, nationally and internationally with the bands Kamerunga and Snake Gully. He has also presented and produced World Music and Folk music programs for ABC Far North, Port Douglas Radio and 4CCR-FM, netting a CBAA Best Specialist Music Program Award with the last-named for a documentary on flamenco. Before coming to Australia, he was a racing journalist of some repute in the UK, where he wrote a column for the London Evening Standard under the nom-de-plume of Ajax.