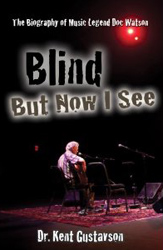 Blooming Twig Books has just released "Blind But Now I See," a no-holds barred biography of the legendary guitarist's life and career. Written by Dr. Kent Gustavson, this first-ever biography of the folk and bluegrass icon. The book was researched over six years, and provides the first ever comprehensive look into the folk music icon's life. "Blind But Now I See" also features dozens of never-before-seen photographs, as well as artist renderings from throughout Doc Watson's childhood and career.
The book reveals never before released details about Doc Watson's life including:
• The inside story of Doc Watson's discovery and rise to greatness, researched from the private notes of his late discoverer Ralph Rinzler, detailing Doc's rise from sideman to superstar and from local stages to Carnegie Hall.
• A full history of Doc's family, his time at the Raleigh School for the Blind, his family's deep roots in North Carolina, and his treasured first string instrument, a banjo crafted by his father from the hide of his granny's old cat.
• The true story of Doc's son, slide guitarist Merle Watson's rise to the top, his tragic tractor accident, and his friends who gathered around his grave at the funeral to sing "Midnight Rider."
"Blind But Now I See" includes never before released details about Doc Watson's life and music career and is already one of the most talked about books of the year. Chock-full of new and compelling interviews, the story is told through the experiences of more than 70 notable musicians and experts on Doc Watson's life, including: Abigail Washburn, Alan O'Bryant, Alice Gerrard, Annie Bird, B. Townes, Bela Fleck, Ben Harper, Beppe Gambetta, Clint Howard, Darol Anger, David Grisman, David Moultrup, Don Rigsby, Donna Hill, Ed Pearl, Edgar Meyer, Ellen Harper-Verdries, George McCeney, Greg Brown, Guy Clark, Guy Davis, Jack Lawrence, James Reams, Jean Ritchie, Jerry Douglas, Joe Crookston, John Cohen, John Pushkin, Jonathan Byrd, Ketch Secor, Larry Long, Maria Muldaur, Mark Moss, Marty Stuart, Michelle Shocked, Mike Marshall, Mike Seeger, Norman Blake, Paddy Moloney, Pat Donohue, Paul Asbell, Paul Chasman, Peggy Seeger, Peter Rowan, Peter Siegel, Rebecca Lovell, Ricky Skaggs, Roland White, Sam Bush, Sarah Bryan, Si Kahn, Tao Rodriguez-Seeger, Tom Chapin, Tom Moore, Tom Paxton, Tommy Emmanuel, Tommy Sands, Tony Cartledge, Tony Rice, Tony Trischka, Warren Haynes and Wayne Henderson.
"Doc Watson is not only a great-great-grandfather himself; he is the patriarch of a long line of flatpicking guitarists like Clarence White and Tony Rice, and the father of the acoustic genre, intimately influencing everyone from Bob Dylan to the Grateful Dead, and from Gillian Welch to Pete Seeger. Doc Watson is a bridge between old and new music, electric and acoustic, New York and Nashville. He is a living, breathing, Americana museum, and he's still out on the road touring today at age 87."
Dr. Kent Gustavson earned his Ph.D. from Stony Brook University in New York, where he now teaches music, leadership, and language. He speaks around the world on both music and publishing, and has interviewed hundreds of award-winning musicians and authors for his radio show "Sound Authors." Dr. Gustavson has released more than a dozen audio recordings on his small independent record label Ninety and Nine Records. He lives and works in Sound Beach, New York.
Buy the book:
Author:
World Music Central News Department
World music news from the editors at World Music Central