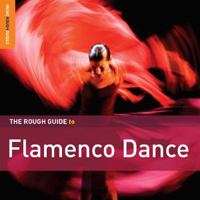 The Rough Guide series to the passionate world of flamenco with The Rough Guide To Flamenco Dance (RGNET1248CD). A potent tradition, flamenco is the ultimate way of expressing and overcoming the complex moods of life through movements of the arms, body and feet, which together form a resonant language.
As an art form it can trace its roots back several centuries although today, flamenco continues to be a world of great innovation. One of today's cutting-edge flamenco singers, Miguel Poveda made his name in 1993 when he won four prizes at the prestigious Concurso Nacional del Cante de las Minas de la Unión festival. The tangos 'Y Yo Qué Culpa Tengo' ('And What Fault Have I') is from his debut album, Viento Del Este, and is full of intense expression and subtle emotional decoration.

Renowned Jerez (one fo the cradles of flamenco) singer La Macanita sings two songs on this album: the tientos-zambra 'Maldigo Tus Ojos Verdes'; and the soleá 'Por El Hablar De La Gente', from the award winning album Mujerez with fellow Jerez seasoned singers Juana la del Pipa and Dolores Agujetas.
Niño Josele is one of a new generation of twenty-first-century flamenco guitarists equally at home playing classical and jazz guitar. On the beautiful tangos 'Tus Ojillos Verdes' ('Your Little Green Eyes'), he performs with singer Salomé Pavón, granddaughter of legendary singer Caracol.
Flautist and saxophonist Jorge Pardo was a key member of Paco de Lucia's pioneering touring group of the 1970s, bringing flamenco into top jazz circles, and here he plays 'Veloz Hacia Su Sino' ('Speed Towards Your Destiny').
David Lagos is regarded as an exciting contemporary voice and the alegrías 'Sal De Caí' ('Cai Salt'), taken from his debut album, is a tribute to the veteran singer Chano Lobato.
This album features a host of other exciting flamenco stars including guitarist Rafael Riqueni, the smoky-voiced singer of the legendary group Radio Tarifa Benjamín Escoriza, and the exciting talent Mayte Martín, as well as a full bonus album, La Guitarra De Oro, by Eduardo Niebla, one of the most potent forces in flamenco jazz fusion today.
Buy the album:
Author:
World Music Central News Department
World music news from the editors at World Music Central